"Then the angel said to her, "Do not be afraid, Mary…you will conceive in your womb and bring forth a Son, and shall call His name Jesus. He will be great, and will be called the Son of the Highest…" – Luke 1:30-32
REFERENCE
Luke 1:26-38
Although not a traditional hymn, "Mary Did You know" has become a beloved song at most Christmas services. It was written by Mark Lowry, a musician and songwriter, himself the son of a singer, songwriter and pianist mother. The inspiration for the song came when he was asked to write a program for a Christmas service. As he wrote the dialogue in the play, his mind settled on Mary, the doorway for God's entry into the world.
Mary's story, as told him by his mother, always fascinated Lowry as a young boy. She told him, "If anyone on earth knew for sure that Jesus was virgin born – Mary knew!" His mind went back to the manger scene and he thought about the power and majesty of the baby in Mary's arms. His little lips were the same lips that spoke worlds into existence; His tiny arms had once set the stars and mountains in their places.  In fact, this little child was the very One who had given life to his mother, Mary.
Lowry then wrote down questions he would like to ask Mary if he could sit down with her; questions such as, 'Mary, do you know who is in your arms?' 'Did you know the One who holds creation together; who holds you together, is lying helpless in the manger?' 'Did you know that your baby boy will walk on water, give sight to a blind man and calm a storm at sea with his hand?' In 1991, Lowry gave this lyric to his friend, Buddy Greene, to write a suitable music for his poem. The finished music was first recorded and sung by gospel artist, Michael English. Other popular singers, including Kenny Rogers, later sang it.
Although this speaks about Jesus, but how true it is that every new born child carries so much potential. If every parent would see their children and treat them thus, our children would do great exploits in their generation. Every child is a priceless original, with a divine program from heaven to do great things. No child is born useless and if only their parents would 'look' at them well, they would see deliverers, inventors, great brands, great entrepreneurs, social reformers, great theologians, global leaders, etc., in them. How many children have had their parents kill their potential by name calling, abuse, lack of faith in them, comparing them to others, trying to squeeze them into preconceived casts…and more importantly, by being blind to see the potential they possess.
Do you know that God equally sees you as a savior, a problem solver, one that can do great things? Imagine that your mum was asked at your birth, "Do you know that this child will one day be a superstar in his field?" "Do you know that on the day you were born, angels also declared, "Joy to the World, Beth is born, Shizawali is born, Japari is born, Happiness is born, Keziah is born, Sam is born? Don't disappoint destiny, like Jesus Christ, 'Go everywhere and do good, for you are anointed of the Holy Ghost.' YOU MATTER TO GOD!
PHOTO QUOTE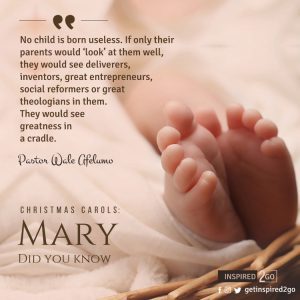 ADDITIONAL STUDY 
Jeremiah 1:4-10, Hebrews 11:23 & Matthew 21:42
See the full lyrics of this song HERE–
You can watch a video of the carol HERE –
PRAYER POINTS
+ Ask for grace to reach your full potential, and for wisdom to guide you in the fulfillment of all of God's plans for you on earth.
+ Pray for enlightenment that will enable you to bring out the best in those God has entrusted into your care.