When the Philistines were at war again with Israel, David and his servants with him went down and fought against the Philistines; and David grew faint. II Samuel 21:15
REFERENCE
Are you at a point where you are finding it hard to do what you once easily did and were good at? Are temptations you once easily overcame now trying to overcome you? Are giants you once easily slew now a threat to you? Have you stopped getting the kind of results you used to get? Or like Peter, have you toiled all night, tried all the tricks in the book, and caught nothing?
It could be one of several things: a). You are fatigued. b). You are getting discouraged. c). You are not as young as you were years ago. d). You are dealing with new giants or e). You lack the skills and strength (exposure, training, strategy) to engage at this new level.
As recorded in this account, King David, the celebrated warrior of Israel got to a point in life when he couldn't slay giants as he once did because he had aged. David was such a great leader; but, in spite of all his accolades and illustrious testimonials, David got tired, he grew faint and found himself in a distressing situation – cornered by a giant, death imminent; but, God sent 'Abishai' into the battlefield just in the nick of time to help and rescue him.
Abishai represents timely help, aid, relief, succor, comfort, assistance, and support. He exhibited great courage and loyalty to David. He dealt with what was confronting David. He actually put his own life on the line to ensure that David's was spared. His name means the Gift of the Father; and God sent him as a gift to David in this instance.
Now, you may be at a point like David, where you feel boxed in and have no strength to confront the giants facing you. The best gift you can ask for when life has boxed you in a corner is an Abishai; someone who knows what to do, who can answer your riddle, whose strength makes up for your weakness, who is not afraid of giants, who is skillful, prayerful, loving and committed to you. Your Abishai can be a confidant, a prayer partner, a counselor, someone to confess to, a spouse, friend, etc.
It is because of the 'Abishai's' of this life that I can confidently say that you may be fatigued but you are not forsaken by God; you may be distressed, but you are not deserted by God, you may feel faint, but God has not forgotten you. Hang in there, your Abishai is on his way. It may look like the giant is about to take you down, but I declare that you will not go down in Jesus' name.
ADDITIONAL STUDY
Isaiah 43:1-2, Luke 5:1-7, & II Corinthians 4:8-9
PHOTO QUOTE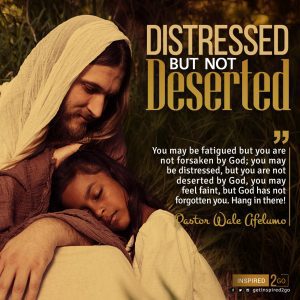 PRAYER POINT
Ask God to send you the gift of timely help to rescue you from the giants confronting you, and to give you the succor and support you need for this season of your life.