And Sarah said, "God has made me laugh, and all who hear will laugh with me." She also said, "Who would have said to Abraham that Sarah would nurse children? For I have borne him a son in his old age." Genesis 21:6-7
REFERENCE
Genesis 21:1-7
The background to this story is found in Genesis 18:1-15 where God visited Sarah to make her a promise that she would bear a son. In this account, He visited her to perform that promise in her life. Irrespective of how impossible it was for a 90 year old woman to bear a child, immediately God gave His Word (made the promise), He went ahead  to make it happen. He revived all the springs of Sarah's being so she could enjoy His blessing.
God's Word will reinforce everything; it can recreate, reposition, realign, and revive. In this case, it brought a dead womb back to life. In Sarah's first encounter with God she laughed sarcastically at the thought of bearing a child; but this time around she laughed in celebration and those who heard the news laughed with her because of God's awesome wonder in her life. As a result of this event, Sarah could not help but exclaim: "Who would have said to Abraham that Sarah would nurse children? For I have borne him a son in his old age."
In other words, nobody could have predicted that a miracle like that was ever possible. Everyone including Sarah had given up on the possibility of her bearing children at that point. Nothing Sarah or anyone did could make it happen; it happened solely by God's divine orchestration.
Likewise, it may seem like there is no way out with your current situation; you may have tried several times without getting the desired outcome. Perhaps you have decided to stop trying. Nonetheless, you should not stop trusting God. He can turn it around for good. You may start late like Sarah, but God will make the springs of your being to come alive in your due season so you can enjoy His blessings.
God can do a repeat performance of what transpired in this passage. Have faith for divine intervention and the miraculous. Our God is the almighty, and the supernatural is natural to Him; when He says 'yes,' no matter how you or others feel, what the doctors have said or what the report says, everything will align to what He says. So, expect God to do something that is beyond human predictions; something that, humanly speaking, is not likely to happen again. Believe God to step into your situation and do the impossible, that all who see, will be amazed and fear Him (Ecclesiastes 3:14).
SCRIPTURE PHOTO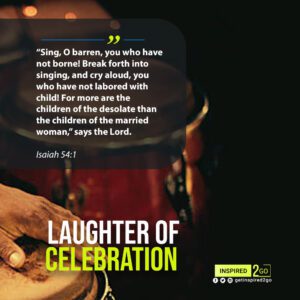 ADDITIONAL STUDY
Isaiah 54:1-4, Jeremiah 32:17, & Galatians 6:9
CONFESSION
This is my season of divine visitation. Right now, God is performing His promises in my life. The alarm of heaven has gone off, and my waiting time is over. My season of manifestation has come. What I thought was impossible will now happen in spite of my age, how late it is or my past experience. O Lord, let Your word of promise revive the springs of my being and enable me to enjoy your blessings. My God will cause me to laugh in celebration and people will laugh with me, in Jesus' name.