The Lord is my shepherd; I shall not want. He makes me to lie down in green pastures… – Psalm 23:1-2
REFERENCE
Psalm 23:1-6.
Just as green grasses provide food and nourishment for animals, the Word of God provides food and nourishment for us as believers. The Word of God is ever green, ever nourishing, ever fresh, never dry, and ever relevant. More so, in it, the weary is rejuvenated, the discouraged finds hope, the weak is made strong, the confused finds direction, and the distressed finds solace.
However, if we are not careful, the issues of life can tire us out, distract us and get us following after 'shadows' so that we don't have time for the Word, and thus we are left famished and spiritually wanting.
Imagine with me, a sheep amongst the flock of a shepherd; when the shepherd brings them to green grasses, this sheep keeps very busy, wanting to move around and survey the vicinity, and it never settles down to eat, rest, or enjoy the benefits of the lush field. Likewise, although the real need of our soul is found in the green pastures of God's Word, we often fall into the temptation of just 'wandering' through it without paying attention or digging deep enough in order to reap benefits.
God, however, desires that we 'lie down' in the green pastures of His Word in order to partake of its benefits, because there is enough pasture to feed every soul and meet every need. 'Lying down' pictures a position of rest in the promises of God's Word – discovering our rich inheritance in God, exploring the depth of grace, receiving strength to run in the race of life, etc.
According to our text, God is our Shepherd (guide) and He is the one that makes us to lie down in green pastures; which means, we need to submit to Him, make time for Him, keep our focus on Him, and ask Him to open our eyes to see the nourishment in His Word for the different needs in our lives. It is when we 'lie down' in the green pastures of the Word – meditating, chewing, and digesting it that we will get the necessary nourishment for our lives and then, "We shall not want."
SCRIPTURE PHOTO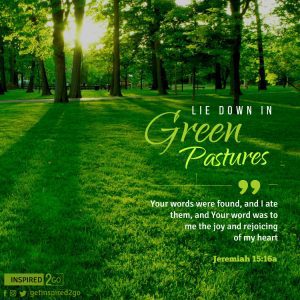 ADDITIONAL STUDY
Jeremiah 15:16a, John 15:4-5, & I Peter 2:2.
PRAYER POINTS
+ Ask God to help you make the Word first priority in your life; that you will ascribe more importance to it than you do to physical food.
+ Ask that as you milk the Word, your eyes will be open to revelations that would make the pastures of your life ever green.