Pride goes before destruction and a haughty spirit before a fall. Proverbs 16:18
REFERENCE
Proverbs 16:18
Pride, amongst other things that it is, can be described as 'the quality of having an excessively high opinion of oneself or of one's importance, especially over others.' It is having an over-inflated self-ego. Pride is one major reason why conflicts remain unresolved in relationships. It is rare to find people who are proud ever go out of their way to seek peace and reconciliation when conflicts arise in a relationship they are involved in, regardless of the type of relationship. Such people would rather walk out of their marriages, quit their jobs, cut off ties with their business partners, change churches, sever their relationship with relatives, etc. than settle the bone of contention.
Our text shows that pride leads to the destruction of things we value – relationships are often ruined as a result of pride. Pride says, "I deserve to have been treated better; I should never have been spoken to like that; if not for 'the way things are,' you wouldn't be talking to me; I will not reach out until he/she does so; I will be disregarded or disrespected if I call to apologize; it will look like I was wrong; I am better off without him/her; I don't need anything you have; I am not in your league, etc." If you check all these statements, the almighty 'I' is present, and if you dig well, you will find out that it is at the root of most ruined relationships. However, as believers, we are to let the same mind in Christ be in us; the mind that humbles itself and unilaterally makes the move towards reconciliation; we are not to be haughty but esteem others better than ourselves.
To this end, a major solution to managing and resolving conflict is to do away with pride – the feeling that we are better than others and so we cannot stoop low to ask for their forgiveness or seek reconciliation of any kind with them. We should come down from our high horses and make the first attempt to seek reconciliation in a conflict. Seeking reconciliation sometimes makes us feel inadequate and small in our eyes and in the eyes of others. Fighting, on the other hand, boosts our pride. So, it is easier to remain in a conflict than to seek redress just so we can feed our pride and satisfy our fleshly desires. But God hates pride! Let's act in all circumstances as children of light who walk in the light of God's Word. That is who we are and that is how God expects us to conduct our affairs.
SCRIPTURE PHOTO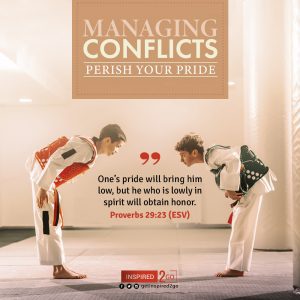 ADDITIONAL STUDY
Philippians 2:1-8, Proverbs 29:23 (ESV), & James 4:6, 10
PRAYER
Lord, I ask for the grace to handle my relationships with humility. May I not give in to pride but be Your imitator in all circumstances. When I find myself in a conflict situation with others, help me to be the first to seek reconciliation and peaceful resolution in Jesus' name.