A certain man from Cyrene, Simon, the father of Alexander and Rufus, was passing by on his way in from the country, and they forced him to carry the cross. Mark 15:22 (NIV)
REFERENCE
Mark 15:16-22 (NIV
It was just a day to Passover in Jerusalem. Jews from all over the world came in for the Feast. The buzz on the streets and in the markets was at fever pitch. Adding to the buzz was a procession to Mount Golgotha, on another side of the city. The Romans were leading criminals to be crucified. However, a certain 'Convict' made that day's procession different and special. Jesus was on His way uphill, bearing a rugged cross. The streets were lined with people who wanted to catch a glimpse of the 'Messiah.'
Simon, a Greek-speaking Jew who most likely traveled in from Cyrene, left his Passover shopping to come catch a glimpse of this Messiah, little did he know that he would have an appointment with destiny. He pushed through the crowd to the front to get a 'ring-side' view. Just after settling down to take in the sight, he heard. "You there!" He looked around and behind him. "I said, you there!" came the soldier's voice, looking mean with a whip in his hand. Simon could not refuse. The law gave Roman soldiers the right to compel Jews to service. "Help the Nazarene carry His cross." Shocked at the sight of Jesus, Simon felt a mix of fear, shock and sympathy. He reluctantly stepped forward, went to Jesus, lifted the cross off Him and put it on his own shoulder. "Wow, it is very heavy." He thought to himself.
Simon, a visitor in town, possibly didn't know much about Jesus and wouldn't want to be identified with a convicted criminal; however, he showed up when it mattered most, to lift the heavy burden from Jesus' shoulders. He didn't understand it all at the time, but later, after the crucifixion, burial, resurrection and ascension of Jesus, he understood that what He did was being a part of prophecy fulfilled and of Christ's Passion. He felt proud that he played an important role in helping Jesus fulfill His mission as the savior of the whole world. Who knew that that little act mattered?
Let's be Simons and lift people's burdens. When we see people laboring under financial burdens, marital stress, emotional trauma, physical pains, work or school problems – even if they brought what they are dealing with upon themselves, we should be compassionate towards them, because that is what we would want others to do for us if roles were reversed. Galatians 6:2 says, we should bear one another's burdens, thereby fulfilling the law of Christ – that is sacrificial love. Simon was compelled to carry the cross, but we don't have to be compelled; let's reach out to people where it really matters to them and help them lift burdens that slow them from getting to their desired destination in life.
SCRIPTURE PHOTO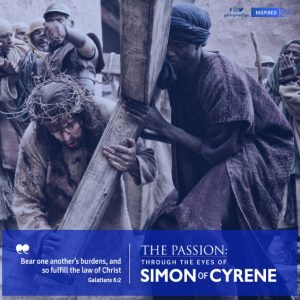 ADDITIONAL STUDY
Proverbs 22:9, Hebrews 13:16, & I John 3:17-18
TO DO
Look closely around – amongst your colleagues, friends, relatives, neighbors, course mates, church members, etc., and do what you can to lift someone's burden today. A little help can really have great significance.