And she said; 'Let your maidservant find favor in your sight.' So the woman went her way and ate, and her face was no longer sad. – I Samuel 1:18
REFERENCE
I Samuel 1:1-20
When Hannah received a prophetic word of assurance from the priest of the temple; she received it in faith, for her face was no longer sad and she went and ate. She didn't fret, panic or even consider the possibility or impossibility of what the priest told her.
The word of the priest was good enough for Hannah, hence, the change in her countenance. She banked with that word, and it produced Samuel.
Whenever God speaks to your situation, you should receive it and it should affect your attitude and behavior, show that you believe the Word and act your belief. Every time you open the bible or listen to a message, a Word from God is there for your taking; how are you reacting to those Words?
For example, Proverbs 4:18 says, "The path of the JUST is like the shining sun that shines ever brighter…" Are you excited that there are better days ahead for you as the JUST, or are you panicky that the year is almost coming to an end, and it doesn't look like your dreams for this year will be accomplished?
Don't receive a word from God and still look helpless or downcast, like they say, "Why pray and worry?"
PHOTO QUOTE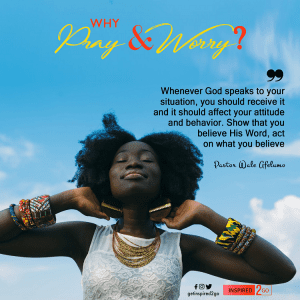 ADDITIONAL STUDY
Matthew 4:4 & Philippians 4:6-7.
PRAYER
* Give glory to God for a Word in season concerning the things you and dealing with; magnify Him today because His Word holds the final authority in your life.
* Come against the spirit of fear that introduces doubt to your faith.