So the master commended the unjust steward because he had dealt shrewdly. For the sons of this world are more shrewd in their generation than the sons of light. Luke 16:8
REFERENCE
Luke 161-13
Yesterday, we established that while Jesus commended the shrewd servant for his smartness in the system of the world, He pointed out that believers are not as smart in the system of God's kingdom. It is therefore pertinent for believers to be smart and work by the rules of God's kingdom in order for them to have successful outcomes in life.
As it regards this passage, the right application to making money, using money and accounting for it as a believer would mean following biblical principles on money. Outlined below are some of them:
The law of giving – offerings, tithing, sacrificial giving, etc. In God's system, the way to getting is by giving. When you give to further God's kingdom, it will be given back to you in full measure, pressed down and running over. What you are willing to give determines what God will be willing to give back to you (Luke 6:38, 2 Corinthians 9:6-15).
Seeking God and service unto God – 'Seek first the kingdom of God.' This is what the popular passage in Matthew 6:33 recommends. When you make seeking and serving God your priority, He would add the extras you need in life. When Solomon in his demand prioritized knowing the ways of God over wealth and riches, God blessed him and made him the richest king that ever lived. Indeed, God rewards those who seek him diligently (2 Chronicles 1:7-12, & 26:5, Hebrews 11:6).
Divine revelation and obedience – be willing to hear and follow God's instructions. In an economic downturn, Isaac heard God's instructions and obeyed every one of them which resulted in him prospering exceedingly…to a point where he was the envy of his competitors (Genesis 26:1-5, & 12-14, Isaiah 1:19).
Love for people – God is about people, because of His great love for people, He gave His only begotten Son to redeem mankind from sin. For every need He would meet in people's lives He would use other people to meet those needs. He cannot entrust wealth into your hands if you will consume it all by yourself. His purpose for blessing you with material wealth is so you can be a conduit of blessing to others. People matter to God; even in the secular world, businesses that are people-oriented, prosper. Thus, you must have a heart of love for others, giving is not a function of the pocket but of the heart. If God can get money 'through' you; He would get it 'to' you (Proverbs 3:28, I John 4:8).
Integrity and Purity – integrity and financially accountability will bring you several opportunities to prosper. A good name is better than gold because it earns you far more. Credibility brings you credit. People would rather do business with you if you have financial integrity than with someone with a track record of financial impropriety. Also, if you lack purity, when money comes, it will corrupt you. So, live a clean and pure life (Proverbs 22:1, John 14:30).
PHOTO QUOTE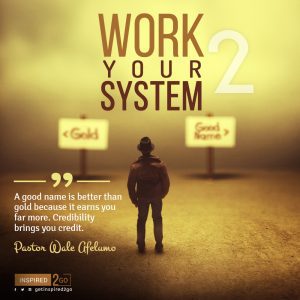 ADDITIONAL STUDY
Matthew 6:24 (ESV) and I Timothy 6:17-19
TO DO
Reflect on the principles above. Where do you need to improve and make adjustments? Write them down and ask for God's grace to help you put them into practice from henceforth.