Call to Me and I will answer you and show you great and mighty things which you do not know.  Jeremiah 33:3
REFERENCE
Jeremiah 33:1-3
God has limitless secrets that will unravel the mysteries of life and living. He has insight into every situation and He knows the way out of every logjam, but as seen from the main text, He will only share His secrets with those who call out to Him for help, those who earnestly seek Him, desiring and requiring His help. Also, like Psalm 25:14 rightly puts it, "The secret of the Lord is with those who fear Him…"
God's knowledge is unfathomable; after all, He is the Manufacturer of all things and what could be better than seeking to understand things from the perspective of the One who made them all? As we know, to optimize the use of an appliance, you must consult the manual; also to fix that appliance when it malfunctions, you have to consult its manufacturer.
So it is with the things you face in life as a believer, because God knows all things, even those things that are hitherto inaccessible to you. You can consult Him through His manual (Bible) and He will willingly show you the perfect way to follow. More so, in His kindness, He gave you the Holy Spirit to comfort and help you to live victoriously on earth.
Theologian, R.C. Sproul, explains the two names synonymous with the Holy Spirit, i.e. Helper and Comforter in this manner: the original meaning of the word 'Helper' is someone called to stand alongside, like an advocate for a family who is on their retainership – someone that is always there to handle issues. While the word 'Comforter' means, 'with strength'. The Holy Spirit doesn't come to comfort believers only after they have been wounded in a battle, rather He comes to empower and to strengthen believers to ensure victory and conquest.
Therefore, there is absolutely no reason for you the believer to be stuck-in-a-rut, be at a stand-still in life, or worst still, live in darkness with such a powerful entity resident inside you. The Holy Spirit is here to help you, but, if you are constantly struggling through life, perhaps, you are not seeking His help. There is an assurance that when you call Him, He will answer and show you great and mighty things which you do not know about – things that will empower you to carry out exploits.
SCRIPTURE PHOTO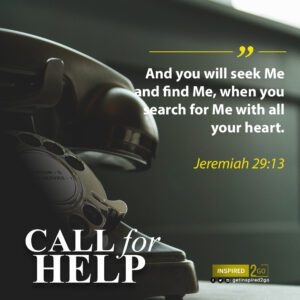 ADDITIONAL STUDY
Jeremiah 29:13-14, John 14:16-18, 15:26 & Acts 10:38 
PRAYER
Dear Lord, I ask for Your mercy, where I haven't sought you with all my heart or asked for the Holy Spirit's help. Today, I repent from my negligence. As I earnestly seek You, empower me to conquer and be victorious over life's struggles in Jesus' name, amen.