Then Jesus answered, "Were not ten cleansed? Where are the nine? Was no one found to return and give praise to God except this foreigner?" Luke 17:17-18
REFERENCE
Towards the end of each year, people (especially Christians) in different parts of the world make time to offer thanksgiving to God, thanking and celebrating Him for their good fortunes, and all He has brought them through. This is indeed a noble cause and quite commendable because even the bible in I Thessalonians 5:18 admonishes us to give thanks to God in all circumstances because that is the will of God for us.
To not thank God can be equated to daylight robbery, ingratitude is offensive to God; to live a life that is devoid of gratitude and thanksgiving offends God. As we look at the story in this passage, we discover that it is possible to forget the blessings of God in our lives, because in this story, ten people cried out with loud voices to the Lord to be cleansed of their leprosy; however, when God answered their prayer, only one of them remembered what God had done, and returned with thanksgiving. So, thanksgiving is really not about the blessings of God in our lives, it is rather, how good we are at remembering.
In Psalm 103:2 the Psalmist said, ''Bless the Lord oh my soul and forget not His benefits.'' He was speaking to himself not to forget because it is possible to forget. Some of you might think God hasn't done anything for you this year, but if you cast your mind back to January and chronicle what God has done, you will be amazed at His blessings in your life. The problem most times is you are waiting for something spectacular to happen to you before you acknowledge God's goodness, but unknown to you; your being alive is the supernatural hand of God at work in your life.
The gift of life is a fundamental blessing of God. Imagine if God were to charge you for the oxygen you take in, would you have been able to afford it? Ecclesiastes 9:4 declares that, "…A living dog is better than a dead lion." As long as you have life, there is hope that things can still turn around to your advantage…so, thank God for life!
Therefore, in this season of thanksgiving, don't be caught up in spiritual amnesia, remember what God has done so far and give Him thanks. An unthankful person is an unthinking person; and an ungrateful person is a forgetful person. If however you feel God has only done a little in your life, still give Him thanks for the little because what you thank God for gets multiplied and repeated in your life.
To sum this up, I end with this quote by Joyce Meyer, "I may not be where I want to be, but thank God I am not where I used to be."
ADDITIONAL STUDY
Deuteronomy 8:11-18, Psalm 107:1-9, & Ephesians 5:20
PHOTO QUOTE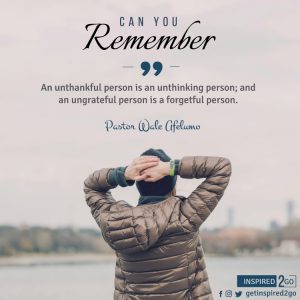 TO DO
Reflect and chronicle everything the Lord has done for you this year in a notepad; then deliberately and sincerely thank Him for all of them.