"For He Himself is our peace, who has made both one, and has broken down the middle wall of separation, having abolished in His flesh the enmity…" ~ Ephesians 2:14-15a
REFERENCE
In the 1800s in France, a clergyman asked a poet member of his parish, Placide Cappeau, to help him pen a poem for the coming Christmas mass. Placide felt honored to share his talent with the church. While traveling in a coach, from the gospel of Luke, he imagined himself being there the night Christ was born, and that became the inspiration for the song in French, "Cantique de Noel." He later thought it would even be better if it was a song and he asked a friend of his, Adolphe Charles Adams, a song writer, to compose a song of it.
Adolphe being Jewish didn't believe in Jesus or Christmas, however, he eventually composed the song, which impressed both the poet and the priest. The song was performed just three weeks later at a Midnight Mass on Christmas Eve. An American writer, John Sullivan Dwight, later introduced the song to America, translating it to English. What caught his interest in the carol, being an ardent abolitionist who was against slavery, were the lines of the third stanza:
"Truly he taught us to love one another; His law is love and his gospel is peace.
Chains shall he break, for the slave is our brother;
And in his name, all oppression shall cease."
In all truth; the message of this stanza captures the essence of the ministry of this miracle Child born on that holy night. What more reveals the holiness of God, than seeing the love of God bind mankind together. Jesus came to end the enmity between God and man, but more importantly, He came to reveal the inherent dignity in each man. He came to place on the same pedestal before God, the slave and the slave owner, the employer, and his employee, the judge and the accused, the master and his servant, etc. Jesus came to show us that we are all one before God – brothers.
He came to abolish the walls that separated us – the mosaic and human laws that preferred a race or a class of people to another – and He introduced a new law, LOVE. He came to break every chain of oppression, to introduce peace between warring factions, and to help us see one another through God's eyes. How much of this love do we demonstrate to our brothers? I mean, people who look different from us, who believe differently, who are less privileged, or who can be of no help to us? It is when we walk in this selfless and non-discriminatory love that we live in the holiness of the God who sent His Son into the world, one Holy Night in Bethlehem. "O Holy Night" is not just a song to sing, it is a call to us to show the God kind of love to humanity.
The extraordinary story of "O Holy Night" began in France and ultimately made its way around the world.
See the full lyrics of this carol HERE
You can watch a video of the carol HERE
SCRIPTURE PHOTO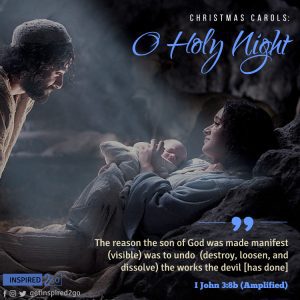 REFLECTION:
What chain of oppression do you need to break this season? Who do you need to reach out to, to let them feel loved and significant? Who do you need to make peace with this Christmas season?
ADDITIONAL STUDY