So when the woman saw that the tree was good for food, that it was pleasant to the eyes, and a tree desirable to make one wise, she took of its fruit and ate. She also gave to her husband with her, and he ate. – Genesis‬ ‭3:6‬ ‭
REFERENCE
Genesis 3:1-6
Satan's techniques to tempt are still the same today as it was from the beginning; he gives you an illusionary beautiful painting of sin, he appeals to your flesh to look at the sin the way you've never seen it before (but contrary to how God's Word sees it).
He shows you the "good" it will do you, the initial benefit, the addition of wealth to you, and the gratification of a long life desire. He tells you God is depriving you of fun, and lures you with other good but deceptive things, but just as Eve, he won't show you the fall, the shame, embarrassment and the feeling of separation from God.
Sin is an enemy you must take a stand and tough position against. If you consider its proposition like Eve, the rest will be history. An adage says, "do not sniff what you do not eat." Joseph fled the scene of sin and in the process, lost his garment, job, freedom, name, respect and every other thing that mattered to him. However, he gained a glorious destiny and the highest place of influence at the end.
Whenever the devil tempts you, and shows you the 'initial' pleasures of sin, think of the end result, see that he wants to drag you to the mud and flee from it. God's path always leads to better things at the end.
SCRIPTURE PHOTO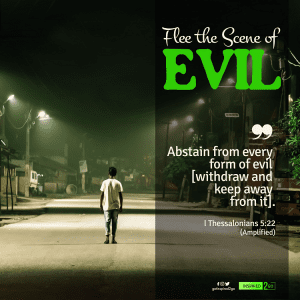 ADDITIONAL STUDY
Genesis 39:7-20, I Thessalonians 5:22 & James 4:7.
PRAYER
Ask for grace to be able to resist the temptation to fall into sin, no matter how appealing it may look, or the pleasures it promises.