Then God blessed them and God said to them, "Be fruitful and multiply; fill the earth and subdue it; have dominion over the fish of the sea, over every living thing that moves on the earth." Genesis 1:28
REFERENCE
Genesis 1:26-30
As Christians, we must understand that the only language the devil understands is power. This is why we are to take heed to the dominion mandate God gave us right from the beginning. Knowing that God has given us authority to dominate is good, but knowing how to deploy that authority and how to wield it is of greater priority because, "A man who is in honor, yet does not understand, is like the beasts that perish" (Psalm 49:20). It is possible to have authority and not know how to use it – don't be a loaded gun without a trigger.
In the beginning, God told Adam to "subdue the earth." The biblical meaning of the word 'subdue' is 'to bring under,' 'to conquer by force,' and 'to bring into permanent subjection.' It means that what is to be subdued will not surrender willingly, which is why it has to be conquered by force. For example, God placed Adam In the Garden of Eden to tend it because left to itself, the Garden would be overtaken by all kinds of weeds, and in the end, it would become a wild bush. So, Adam had to frequently till the ground, plant seeds, fertilize it, water it, and weed it to keep it 'under control.'
Like unwanted weeds, life can be hostile and will often throw unexpected battles your way; but, you must stand in the place of your dominion to bring these unwanted weeds into permanent subjection. Again, in the world that we live in; your authority will constantly be resisted; your promotion will be debated, your progress will be opposed, and your victory will be challenged. Nothing comes on a platter of gold; that is why you were given authority to subdue and dominate in the first place, and there is a command from God to exert that authority.
Exerting your authority requires deep spirituality, because we fight against forces in the unseen realm (Ephesians 6:12). Having dominion over the things that are against you in this world is a function of power and there is no better place to generate power than in the place of prayer. James 5:16b in the Amplified Bible says "The earnest (heartfelt, continued) prayer of the righteous man makes tremendous power available (dynamic in its working)." In order words, prayer makes much power available and is dynamic; so, it can accomplish all kinds of feats. When you put your heart in your prayers, you generate such power that the forces of darkness cannot resist. Prayer clothes you with a strong consciousness of divine authority; it is one of the ways you use your authority, subdue the earth, and walk in your dominion.
PHOTO QUOTE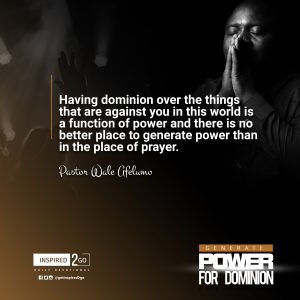 ADDITIONAL STUDY
Matthew 18:18, Luke 10:19, & I John 5:14-15
TO DO
Take time to pray and address the unwanted weeds in your life – the things resisting your authority and opposing your progress. Make bold decrees with your authority to bind what you don't want in your life, and loose to materialize what you want to see in your life.