Jesus said to him, "Rise, take up your bed and walk." John 5:8
REFERENCE
John 5:1-9
"Rise, take up your bed…walk." What a strange command to give to a 38-year long paralytic. However, this divine word became the vehicle of divine power. This man was commanded to do what he couldn't – to make an attempt to rise and walk. And as he did, he received strength to do it. Strength is imparted by the Word of God!
What would have happened if the man had reasoned out the fact that he hadn't walked for 38 years and became afraid to take that first step? What would have happened if he hadn't obeyed Jesus' command? We may never know, but perhaps he would have remained the same way. This is a call to obedience; a call to do something with God's Word. While you are waiting for God to do the extraordinary, He is waiting on you to make a move and claim the promises in His Word through the works of faith.
Every time you hear the Word of God, you have a choice to obey or not. You cannot negotiate your way through obedience; it may be a simple or a relatively hard instruction but you have to obey it nonetheless to see your desired result.
When Jesus told Simon to launch into the deep for a catch after a night of toil, you could imagine the expression on Simon's face. In his mind Simon must have thought, "What is this man talking about? I am an experienced fisherman yet I toiled through the NIGHT (the best time to fish) without catching any fish." Despite that fact, Simon still said, "Master, we have toiled all night and caught nothing; nevertheless at Your word I will let down the net." A divine turnaround took place the instant Simon acted on Jesus' Word because the Word carries the divine ability of God; it can create something out of nothing, and make the impossible to become possible (Luke 5:1-7).
All you need is a Word from God; stop hoping and wondering about that long-standing problem in your life and the different challenges you are passing through; it is not time to wallow in self-pity or to relent in your faith, but time to dig in your heels and dig deeper into the Word of God. Get a Word concerning your situation and work it! This can be achieved by believing what the Word says, praying with it, confessing it and not letting it out of your sight, like a bulldog with a bone, till you see the manifestation of what it promises. The Word still works wonders in spite of prevailing circumstances. Work it!
PHOTO QUOTE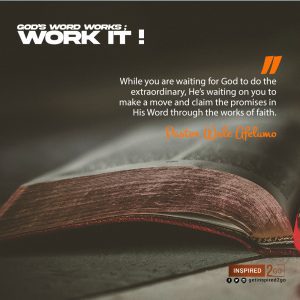 ADDITIONAL STUDY
Proverbs 30:5 (ERV), Hebrews 4:12, & James 1:22-25
PRAYER POINTS
+ Pray that God will give you the courage to obey and promptly act on His Word; that when the Word comes forth for your situation, you will be strengthened to receive and run with it.
+ Ask that the Word will work wonders for you beyond your wildest imagination as you commit to work it!