The Lord has made everything for its purpose ~ Proverbs 16:4a (ESV)
REFERENCE
Proverbs 16:4a (ESV)
God had a purpose for you to fulfill on earth before He allowed you to be conceived by your mother. No matter the circumstances surrounding your birth, you are significant in God's scheme of things. Purpose is the reason for which a thing exists. A chair is not like a table because of its purpose. Your purpose is what you were created for.
At some point in your life, the question of why you are here (purpose) will surface, especially as you mature in age. How you answer this question will determine how you see, interact with, and impact the world. It is therefore important that you find real answers to this question because when you know it, you will walk towards fulfilling it, and when you fulfill it, you will bring glory and satisfaction to God who made everything for its purpose.
In answering the question regarding your purpose on earth at such a time like this, let the following scriptures guide you:
Esther 4:14, Matthew 4:14-16 – you have a specific assignment to fulfill
Jonah 3:1-10 – you are here because multitudes need you
Revelations 4:11 – you are here for God's glory
Matthew 5:14 – you are here to show someone God's light (salvation)
In case you are not yet sure of your specific assignment on earth, you have to look closely into your life and reflect on the knowledge and experiences you have acquired so far, your skill set, what comes easily for you to do, your personality traits, the things you are passionate about making happen for others, and the changes you will like to effect around your circle of influence if you have the means. Putting all of these together will point you in the right direction.
If you have discovered your purpose on earth, are you actively pursuing it? There is a hunger in all of us to become what God created us to be, when we discover, follow and fulfill our purpose, that hunger will be satisfied and we will be fulfilled knowing we cooperated with God to see His will (purpose) come to pass in our lives.
PHOTO QUOTE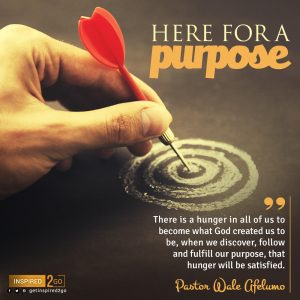 ADDITIONAL STUDY
Psalm 90:12
PRAYER POINT
Ask for wisdom to discover your purpose, strength to focus on it; energy to pursue it passionately and grace to achieve results that will bring glory to God.