Do not say to your neighbor, 'Go, and come back, and tomorrow I will give it,' when you have it with you. – Proverbs 3:28
REFERENCE
Proverbs 3:27-28
If we leave our flesh to do what it wants, it would often procrastinate the good it knows to do; putting off till tomorrow what ought to be done today. However, there are certain things in life that require urgency; that cannot be put off to another day – for example, salvation, forgiveness and the need to mend our relationships with our spouse, family or friends.
More importantly, are the 'good' things God has placed in us to benefit mankind. These include some of the issues we identified yesterday – educating orphans, speaking up for those unjustly imprisoned, taking the gospel to the unreached, housing the homeless, tackling injustice in your society, giving relief to victims of war and natural disasters, health care, etc. God is saying this is the time to begin to engage, to put your hands to the plough and 'do good.'
Don't postpone doing good till later or tomorrow, especially when God has given you the ability to do it now. Yes, it is good to plan and prepare, but think about how much time has passed between when you were first inspired to do those things and now? What have you done about them? Do you think it is not yet the time? King Solomon said, "He who waits for perfect conditions will never get anything done." Make a move; start small! Begin to make enquiries, write out a plan, get statistics, get a mentor, start saving for it, adopt an indigent student or widow to support, or start the coaching or writing. Do you know that you are closer to your day of 'departure' today than you were yesterday? Time is not always on our side as much as we desire. If you think you are too old to start now, you will be much older to start tomorrow – so start!
If not now, then when?
I once watched an Oprah show. A man designed a digital countdown clock which he said helped him to use his time wisely. He assumed he would live 50 more years and input that into the clock. The clock read something like 438,000hrs:00mins:00secs and started the countdown. By day two, it could read something like 412,540hrs:34mins:14secs. The man said every time he looked at the clock, he saw his life ticking away and that gave him a sense of urgency. Imagine you have such a countdown clock and your time here is ticking away by the second, tick, tock, tick, tock. What things will you like to do 'immediately?' Stop saying, "Not now."
If not now, then when?
SCRIPTURE PHOTO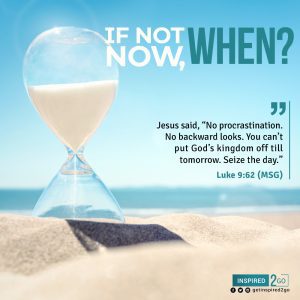 ADDITIONAL READING
Proverbs 27:1, II Corinthians 6:1-3, Ephesians 5:16-17 & Luke 9:61-62 (Message Bible)
PRAYER POINTS
+ Lord, I ask that you put speed in my feet to run with what You want me to do. No more delays.
+ I receive all I need to do and all I am supposed to do in Jesus' name.