But he said, "O my Lord, please send by the hand of whomever else You may send." – Exodus 4:13
REFERENCE
Exodus 4:1-16
God often will not do anything on earth without man's cooperation. He takes one man and does amazing things through him; ordinary men of whom the world thinks nothing, and from whom one would not have expected anything spectacular – Esther, Noah and David are examples.
Isaiah heard God's voice saying, "Whom shall I send and who will go for us?" There are great purposes God wants fulfilled on the earth – dealing with poverty, educating orphans, speaking up for those unjustly imprisoned, taking the gospel to the unreached, housing the homeless, tackling injustice in your society, giving relief to victims of war and natural disasters, health care, etc. Before God, all these mean true religion; but all He is saying is, "Who will step up to the task?"
In our text, Moses gave God a response most of us would have given; "Use someone else, it's none of my concern," or "There's someone more qualified, with more money and time to do it – not me." The root of this response is fear; the fear of losing 'ourselves,' of leaving our comfort zone and the fear of failure. There are abundant opportunities around us to do 'good' rather than for us to be self-absorbed; and so, I ask, "If not you, who?" If you do not let God use you, you also miss the privilege of letting God lift you. There is nobody God mightily used in the bible or modern times that has remained in obscurity.
Have you ever asked God what problem He would have you solve? Have you sensed His calling to do something but have ignored it? Are you so preoccupied by your needs and goals that you are blind to the simple things you can change around you, claiming it to be someone else's business?" Open up your heart to Him and let Him lead you to the 'work' He would want you to do for Him. Let Him interrupt your life, your schedule and your plan. Do not say, "No, not I." I say to you, "If not you, then who?"
SCRIPTURE PHOTO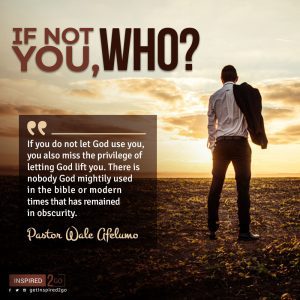 ADDITIONAL READING 
Job 29:11-17, Isaiah 6:8, Proverbs 24:11-12 & 31:8-9
PRAYER POINT
+ From today, may I begin to live my life for God's higher purpose; Lord make me a solution provider to my generation.
+ If you can use anyone, I make myself available – SEND AND USE ME LORD in Jesus' name!