O Lord, You are the portion of my inheritance and my cup; You maintain my lot. The lines have fallen to me in pleasant places; yes, I have a good inheritance. ~ Psalm 16:5-6
REFERENCE
Psalm 16:1-6
As he was about to bring the people of Israel into their allotted inheritance, Moses said, "For the Lord your God is bringing you into a good land, a land of brooks of water, of fountains and springs, that flow out of valleys and hills" (Deuteronomy 8:7). What a blessing to inherit a land with water brooks, because Jeremiah tells us it is a curse to inherit the parched places of the earth (Jeremiah 17:5-6). Water in a land means – life for vegetation, satisfaction for man's thirst, and all year fruitfulness.
Water is symbolic of restoration, satisfaction, fruitfulness, rejuvenation and blessings. It is emblematic of the outpouring of the Spirit. Indeed we have a good heritage, for the Surveyor's pen has enclosed water brooks for our inheritance. Therefore, we have God's promise for a life of restoration, seasons of refreshing for the satisfaction of our weary souls, the fulfillment of the expectations of our hearts, and all-round fruitfulness, for we are the Lords well-watered garden. This means, there should be no parched area in our lives, nor barrenness of the body, mind, or spirit, for there is a stream that proceeds from God whose rivers shall make us glad.
Ezekiel also reveals to us that the waters of this brook, give the leaves of the plant healing power. Consequently, our allotted portion also includes divine healing and supernatural health (Ezekiel 47:12). Christ died on the cross and rose from death to ensure our access to all these privileges. So, as we walk round our possession, we refuse cancer, high blood pressure, sugar blood diabetes, and every other disease. I said earlier, the waters speak of God's Spirit and the leaves of the tree will mean God's Word, so if there is anything contrary in your health, a parched area of your life, or a barrenness of ideas, go into your garden pluck a leaf (get the Word of God) and ingest it. Amen!
I end with this text: "The poor and needy seek water, but there is none, their tongues fail for thirst. I, the Lord, will hear them; I, the God of Israel, will not forsake them. I will open rivers in desolate heights, and fountains in the midst of the valleys; I will make the wilderness a pool of water, and the dry land springs of water. Isaiah 41:17-18
SCRIPTURE PHOTO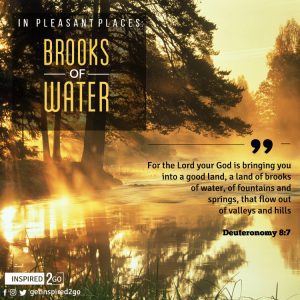 ADDITIONAL STUDY
Psalm 1:1-3 and John 7:37-39
CONFESSION
God has made me a well-watered garden; therefore, I produce year-long fruits in all aspects of my life. I refuse barrenness and sickness of any sort to have a leeway in my life. I thrive from the brook of water God has allotted to me, and in it I am satisfied! Hallelujah!