"…But the just shall live by his faith."~ Habakkuk 2:4
REFERENCE
Habakkuk 2:1-4


These are times when the journey of life seems uncertain and finishing seems unachievable. Your mind may be dominated by questions and you are wondering why things are the way they are, why things are not letting up or turning out as they should. You may have even gotten to the point of throwing in the towel, but today's text admonishes you, the just man/woman, to live by your faith (not by your circumstances). In other words, by faith you shall possess, handle the affairs and determine the outcome of your life.
So, be ready to respond by your faith to those issues that defy logic or try to knock you off balance, because as long as you live in this earthly realm, from time to time they will keep resurfacing in different aspects of your life. It takes faith in God to see light at the end of a dark tunnel.
Faith means believing God over your reality; it is taking God by His word and above every other thing around you. It is one currency that delivers the same value anywhere you present it. Consequently, anyone can use it anywhere and in all situations and it will deliver the same value – it will produce the right results.
Keeping the switch of faith turned on therefore means, not ever taking your eyes off what you already believe about God i.e. about His Word. This way, you can respond to whatever confronts you with the Word of God; e.g. if you experience hardship, you can boldly declare that, 'the righteous will not beg for bread,' and even when things become harder, you will not waver because you believe the Word above the hardship (the circumstance). Faith then is the Word of God believed, confessed and acted upon, and Jesus promised us that, "Heaven and earth shall pass away, but His Words shall not pass away unfulfilled."
When you start responding by faith to every issue that confronts you in life, you will become unshakable, fearless, and can live the victorious life God intends for you to live.
Your faith will always stay turned on when you give attention to the Word of God. Keep your switch of FAITH always turned ON!
SCRIPTURE PHOTO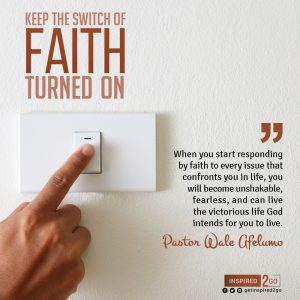 ADDITIONAL STUDY
II Corinthians 5:7 (NIV), I Timothy 6:12 & Hebrews 11:1-6
PRAYER POINT
Ask the Holy Spirit to always remind you of the right response of faith to use, in order to have successful outcomes in your daily encounters.