A hot-tempered man stirs up strife, but he who is slow to anger quiets contention.  Proverbs 15:18 (ESV)
REFERENCE
Proverbs 15:18 (ESV)
A constant ingredient of conflict in our relationships is anger: allowing our tempers flare up at the provocation or perceived provocation of others. It was in a spur of the moment and in anger, that King Ahasuerus took a decision that ended his marriage with Queen Vashti. Even today, anger causes so much conflict and ruins many relationships. Often, when anger is allowed to take control of situations, it results in bitterness, arguments and destruction of relationships. Therefore, an important practical step to managing conflicts is mastering your anger. You must decide that anger will not have rule over you; you must learn to bridle it and put it under control because according to Proverbs 25:28 someone without self-control is like a city that is broken down without walls.
James 1:19 admonishes us to be slow to speak and slow to anger, and our text reveals that someone who is slow to anger quells contention. This means taming conflicts before they even start. To effectively do that, you must learn to be proactive. Proverbs 17:14 says, "The beginning of strife is like releasing water; therefore stop contention before a quarrel starts." Confrontations with others often start mildly; wisdom then teaches that it is best to arrest a potential conflict situation before it boils into a full blown feud. If God's Word says we should stop contention before it starts, it means we have the God-given capacity to do so because of the Word of God. Therefore, be discerning enough to see conflict brewing and stop it before it's too late – it may save your life, your friendships, job or even your marriage.
Furthermore, words can be either destructive or constructive, so, they play a vital role when it comes to managing conflicts. So, besides being proactive, we must learn to speak words that soothe and minister grace to the hearers. Solomon said, "A soft answer turns away wrath" (Proverbs 15:1). We must learn to be gentle with our answers when we find ourselves in a confrontational situation with others; we must watch our tone of voice, our body language and our choice of words in such situations. We must avoid answering an angry person with the first thing that comes to our minds; rather, we should listen and understand what the person is trying to say, and then reply calmly with gentle words. This approach, in most cases, will douse the situation and set the stage for reconciliation.
Give no place to anger; it only leaves ruin in its wake…bridle it!
SCRIPTURE PHOTO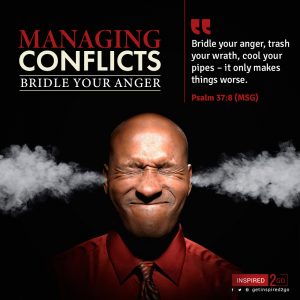 ADDITIONAL STUDY
Esther 1:10-21, Psalm 37:8 (MSG) & Ephesians 4:29
PRAYER POINT
Pray for the Holy Spirit to help you align your words and actions in a potential conflict situation with the will of God; that the Fruit of the Spirit that is resident in you would take preeminence in such situations.