So Abram said to Lot, "Please let there be no strife between you and me, and between my herdsmen and your herdsmen; FOR WE ARE BRETHREN.  Is not the whole land before you? Please separate from me. If you take the left, then I will go to the right; or, if you go to the right, then I will go to the left." Genesis 13:8&9
REFERENCE
Genesis 13:1-12
Earlier, we established that conflicts are a normal occurrence in human relations because people are different and have different opinions, idiosyncrasies, and life's experiences. We have also examined different approaches to managing and resolving conflicts, so let us proceed along the same line of thought.
Some people would rather apply the 'ostrich approach' by acting like everything is normal, when in the real sense they are in a conflict situation. Burying your head in the ground, pretending that all is well will never resolve a conflict; rather, the best approach is to seek to understand the problem at hand and look for practical ways to manage and resolve it, because unresolved conflict is a ticking time bomb that leads to disaster. Often, when conflicts are resolved amicably it strengthens the relationship between the parties involved.
To this end, a great way to managing and resolving conflicts is to apply the WIN-WIN approach where you provide solutions to the problem that would mutually benefit everyone involved. As seen from today's passage, Abraham had to apply the win-win approach to avoid going to war with his nephew, Lot. He must have arrived at this solution after much thought; the solution he proffered to the problem of space shortage was mutually beneficial to Lot and himself. By doing that, he preserved his relationship with Lot even though they separated from living together. Likewise, we should learn to proffer solutions that would make us partners and not opponents with people we have conflicts with.
When involved in a conflicting situation, we should think of solutions that are concessionary, that would make us and the other person (or people) feel valued and respected at the end of the day. Thus, we need to put on our thinking caps to develop options that would resolve the conflict. Sometimes, we choose the acrimonious approach because we are 'too lazy to think' of a solution or a workable alternative.
Abraham was the one who had the covenant of God's blessings, Lot his nephew was only a 'tag along,' yet, Abraham was flexible enough in his bid to resolve the brewing conflict between them to allow Lot make the first choice in choosing different lands to accommodate them. I believe Abraham did this just to allow peace reign. Matthew 5:9 says, "Blessed are the peacemakers, for they shall be called sons of God." As believers, let's be flexible with others when resolving conflicts. It may not seem fair and would definitely not appeal to our flesh, but let's give the other person (people) the advantage if it would allow peace reign. That way, everyone wins!
 SCRIPTURE PHOTO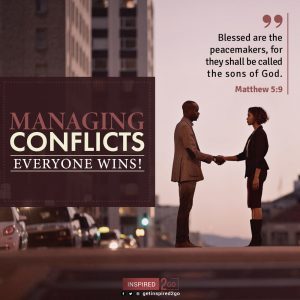 ADDITIONAL STUDY
Amos 3:3, Philippians 2:3-4, & I Corinthians 6:7-8
REFLECTION
Abraham gave Lot the advantage to allow peace reign in their relationship, what practical step(s) will you take to allow peace reign in a relationship where conflict is brewing