"Welcome with open arms fellow believers who don't see things the way you do. And don't jump all over them every time they do or say something you don't agree with…" Romans 14:1 (MSG)
REFERENCE
Romans 14:1-5
Unresolved conflicts, as seen from yesterday's study, have dire consequences. They arise for various reasons, but basically because people differ in their opinions and as such, perceive things differently. Life largely is about perspectives. The way we view events determine the way we respond to them.  To get the best outcomes in our relationships, we must strive to understand and manage conflict (which is an unavoidable part of living), so as to be able to easily anticipate it and find ways to prevent and resolve it.
The first practical step to take in managing conflict is to see (or understand) that as human beings, we are all different. We have different likes, peculiarities, styles, values, opinions, exposures, etc. God made us all in His image, but differently; yet He expects us to live together, accepting one another. Thus, we must not judge others or fight with them when their opinions differ from ours. As directed by our text, we are supposed to welcome with open arms those who don't see things the way we do; not enter into unnecessary arguments that would lead to strife and disunity – O, how this would save many marriages from untold fights and hurts!
Secondly, we should always put ourselves in other people's shoes and show empathy. To avoid situations that would lead to unresolved conflict in our relationships with others, we must decide to treat people the way we would want to be treated. In the event of a conflict, we must try to understand their point of view and why they have that point of view. Until we have sat where people sit, we won't really understand why they do certain things in certain ways, and how we can live peaceably with them. Job 2:11-13 records that when Job's friends went to visit him in his agony, they sat with him for seven days without uttering a word; they tried to understand his pains. Also, Ezekiel sat where the captives at Tel Abib sat for seven days astonished at what they were passing through (Ezekiel 3:15).
It is in our best interest to manage and resolve conflicts with others to preserve our sanity and peace of mind; so, it is advisable to go the extra mile, listen and try to understand them, and then make the necessary adjustments to salvage the situation. One error we are often prone to, that we must try to avoid is this: "Judging ourselves by our intentions, but judging others by their actions." We must look beyond the act to the heart to be able to have more meaningful and lasting relationships.
SCRIPTURE PHOTO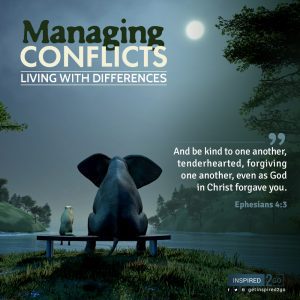 ADDITIONAL STUDY
Matthew 7:12, Ephesians 4:32 & Colossians 3:8-11
REFLECTION
Do you have unresolved conflicts as a result of your differing opinions with others?
What will you do to show empathy, resolve the conflict you have with others, and salvage the relationship as a result of today's study?