And a certain man lame from his mother's womb was carried, whom they laid daily at the gate of the temple which is called Beautiful, to ask alms from those who entered the temple; who, seeing Peter and John about to go into the temple, asked for alms. Acts 3:2-3
REFERENCE
Life can sometimes beat one to a point where one is described by one's problems; e.g. the blind man, the lame man, the barren woman, the sickly girl, the homeless man, the jobless man, etc. Such was the case of this nameless lame man who sat and asked for alms at the Beautiful Gate; he was born crippled. He started life in the face of overwhelming odds and had rejection tattooed all over his face. He depended on his friends who carried him from place to place. They did not only carry him physically, but also, financially, morally, and otherwise. He completely lost the capacity to help himself because of his condition.
Nevertheless, it was his helpless condition that made him a candidate for God's intervention because man's calamity is often God's opportunity to show His grace and might. What nature damaged, gave room to showcase the richness of God's power, hallelujah! The beauty of this story is that at the end of the day, a life was transformed, a congenital problem was reversed in the life of this man because God sees needs and steps in to meet those needs.
The fact that you are in a bad place doesn't mean all hope is lost. Rather, it means you qualify for God's intervention because without a problem, there won't be any need for a solution. Philippians 4:19 says, "And my God shall supply all your need according to His riches in glory by Christ Jesus." This means, if there is no need in your life, you shouldn't expect God's supply; but, every need, whether material, emotional, physical, marital, academic, or otherwise, creates room for God to step in – you can expect God's supply to meet your needs.
Fear not, God is still in the business of meeting needs and repairing damaged situations. The darker the situation you may find yourself, the brighter God's light will shine to deliver you. Remember, "Man's calamity is always God's opportunity."
PHOTO QUOTE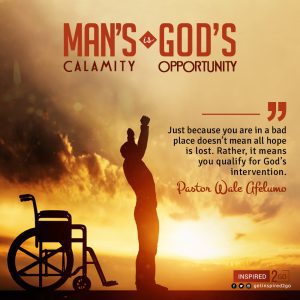 ADDITIONAL STUDY
Psalm 23:1-6, Matthew 15:32-38, & John 9:2-9
PRAYER
Thank You Father that my case is not hopeless; I ask for Your intervention in my situation. Shine Your light on the dark areas of my life and supply my needs according to Your riches in glory by Christ Jesus. Amen