And David said, "What have I done now? Is there not a cause?" I Samuel 17:29
REFERENCE
I Samuel 17:22-29 & 34-37
One undeniable quality of high-fliers in society is a supernatural sense of mission. They live as though they were sent on a mission. They live conscious of that mission and as though time is against them. A good example is the missionaries who left the comfort of the western world to bring the Gospel to the disease-infested jungles of Africa. Many came at their own cost and in peril of their own lives. What was driving them? What was the motivation? Mission. A mission is an important assignment given to a person or group of people to achieve.
We all should have goals of what we hope to achieve or become in life, a goal post we are heading to. It should be defined and well-articulated; e.g. "I want to be a bestselling author. I want to be responsible for the tertiary education of 500 Nigerians, etc. When this has been identified, the next thing you should possess is a sense of mission – a propelling force that drives you towards the goal that you set for yourself. That sense of mission is what I call 'mission-mindedness.' It is a business-like mind. It is a mind or an attitude that says, "I'm working on something or I'm headed somewhere."
David, as seen from today's account, was so mission-minded that he wasn't afraid to stand up to the giant – Goliath. When his brother admonished him, he categorically stated that there was a cause – in other words, a mission to accomplish.
 Being mission-minded gives you speed as an individual. You become business-like in your approach to life and work. You save time from not taking unnecessary detours, and you easily become a mentor and a role model to many in your sphere of engagement.
A sense of mission works like a magnet. It will repel some things/people you do not need and will attract the things/people you need. It informs your choices, your decisions, what you do, where you live, who you hang out with, who you date, your values, etc. Being mission-minded is an integral part of living a purposeful and meaningful life on earth, join us in the next episode as we study how to develop mission-mindedness.
SCRIPTURE PHOTO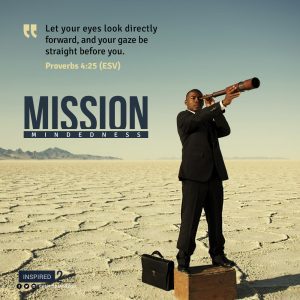 ADDITIONAL STUDY
Psalm 78:70-72,  Luke 2:41-49, & Proverbs 4:25 (ESV)
PRAYER
Lord, baptize me with a sense of mission; let my eyes stay focused on my life's mission, and strengthen me to achieve it in Jesus' name.