Then Job arose, tore his robe, and shaved his head; and he fell to the ground and worshiped. Job 1:20
REFERENCE
Job 1:1-22
Reading through Job's travails you can't help but wonder, "How much can one man endure? How did he go through that entire trauma without losing his mind? How did he hold onto his righteousness? What audacity of hope made him decide to wait for a change that would take place on 'an appointed' day? What made him still say kind words about God during his night season when it seemed like the day will never break?
It is recorded that in spite of his misfortunes, Job humbled himself, fell down and worshipped God's majesty. I wonder what He said in His worship. He blessed God for life and not possessions and called Him righteous and wise. He understood that it could have been worse, and indeed, that Satan asked for his life, but God refused. So, he worshipped.
It was illogical, irrational, unexpected, inexplicable, almost annoying and unusual. Job did not blame or ascribe any fault to God. He did not sin with his mouth which is what we mostly are guilty of at such times. He resisted the temptation to grumble or curse God, why? Because he knew that praising God during the night season is a release of his faith. It says "God is bigger than the situation, His light still penetrates the night, His love overcomes Satan's hate and rage and His mercy triumph overcomes judgment."
When Job bowed and worshipped God, he sowed the seed for his turnaround. It didn't matter what the devil did, what his friends said, what his wife said or even how long it took. The seed of praise/worship was in the soil and the plant of testimony would soon sprout. His worship of God became the hinge upon which everything in his life turned. God heard Job's praise, and that strengthened him through the lengthy night of his life. By the time God was done with Job, he had double of and better than what he had before the night. By the time the night gave way to the light of day, his joy came in the morning!
The ultimate object of attack when the night falls is your heart: your trust and faith in God. Satan wants to inject hopelessness and resentment towards God in you. What will you do when night falls? Will you turn to God or will you turn on God? Take a cue from Job, don't murmur and complain against God during your night season, keep your hope alive, don't shut your mouth; praise God and your day will soon break in Jesus' name. Amen!
SCRIPTURE PHOTO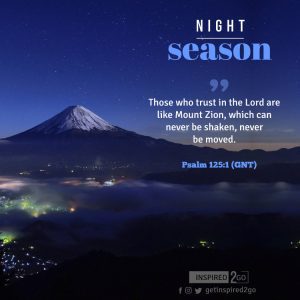 ADDITIONAL STUDY
Psalm 125:1-2 (GNT), Acts 16:16-34, & Romans 8:18
CONFESSION
I declare that I will turn to God and not on God in all situations because He is my helper. I put my trust in Him and I will never be shaken. Weeping may have endured in my night season, but I will continue to sow the seed of sacrificial praise unto God; and I expect to reap a harvest of joy as the day breaks for me in Jesus' name.