I press toward the goal for the prize of the upward call of God in Christ Jesus. – Philippians 3:14
REFERENCE
Philippians 3:3-15
Hardly does any serious-minded believer read about the life of the Apostle Paul in the bible and not feel challenged and stretched. He is the man that metamorphosed from being the chief of sinners into an eminent Apostle; first among equals. He preached to peasants, princes, prisoners, jailers and governors. He also preached in homes and in amphitheaters. His résumé is swollen with sterling achievements and enviable accolades; his 'uniform' as a soldier of the Lord is bedazzled with jangling medals of Honor. What a man! Many ministers of the gospel today would give anything to achieve half as much as he achieved.
But hold on! In today's passage, Paul considered all his achievements as useless; as useless as cow dung. His degrees and travels, he saw as a waste – an inconsequential accomplishment. His great desire was to be conformed to the full stature of Christ; he expressed a longing to know Christ and the power of His resurrection. What made Paul, after all he had achieved, to still have a burning desire to know more and to do more? The secret is that he always told himself, "I AM NOT THERE YET, THERE IS STILL MORE!" Many today, unfortunately, have lost that 'not there yet' mentality. We often rest on our achievements and think that we are the best thing that happened to humanity. A spirit of pride reeks all over us and stops us from becoming our best.
In spite of what you have, where you have been, what you have accomplished or how educated you are, you are NOT THERE YET! There is still a 'there' that God purposed for you, and the greatest enemy of 'there' is 'here.' If you lose sight of there, you will soon lose your relevance and miss being all you could have been and done.
Do not let pride make you think you are 'all that,' there is always more grounds to cover; be humble, be teachable, desire to know more and be more.  Be yielded to God, let Him know you want all He has for you, and you will be shocked where you will end up in life and how much impact you will make. I will like you to close your eyes now, look at all you may have accomplished, then look into the eyes of Jesus and the plans He has for you, then whisper to the hearing of your spirit man by mentioning your name (for example), "Sam, you are NOT THERE YET!"
PHOTO QUOTE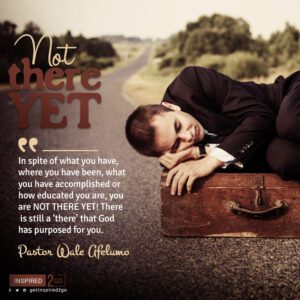 ADDITIONAL STUDY
Joshua 13:1, Romans 15:23-29, & I Corinthians 9:24-27
PRAYER
Lord, help me not to allow my present achievements becloud my judgment and stop me from going forward to the new grounds and territories you want me to cover. May I be strengthened to continually push till I get to the 'there' You have purposed for me in Jesus' name.