One of them, when he saw he was healed, came back, praising God in a loud voice. Jesus asked, "Were not all ten cleansed? Where are the other nine? Luke 17:15 & 17
REFERENCE
Luke 17:11-17
As Christians, our lives are like billboards advertising God's goodness. We are living witnesses, walking testimonies, and an open bible to the people in our own cluster of influence. They knew who we were before and now they can see who we have become in Christ. What then do you do with the good news that is the story of your life? Simple, take that good-news-story of yours and proclaim it as 'breaking news.' Broadcasters often interrupt scheduled programming to promptly announce breaking news to the public.
Think about the leper in our text, the one whom out of the ten came back to Jesus, praising God in a loud voice. What do you think he said as he praised God aloud? His story, his testimony about how he was leprous but got healed! And what did his loud praising evoke? Questions of course, passersby and all who saw him would have wanted to know the reason behind his jubilation. I can already imagine him stopping constantly to share his story before he got to where Jesus was.
When we don't share our story to the unsaved we deny them an opportunity to meet with God. We become like the remaining nine lepers who went and hid after Jesus healed them. What we do not realize is that we are hiding our most potent weapon – our story, discoveries, achievements, and testimony of how God found us in our pain, penury & filth, but gave us a new lease on life.  Don't let the excuse of not knowing what to say to people stop you. Tell them what God has done for you! It is that simple, "I once was blind now I see."
Go tell your story. It is a matter of high priority. It can't wait because certain people will make important life decisions based on it. Don't allow irrelevant news dominate the airwaves of your life and of those around you. Every other thing can wait. Stop putting off plans to speak to the unsaved in your community. Stop waiting for a perfect time to do the right thing. Go and tell your household, your colleagues, friends and your neighbors. You are the light of the world! If you don't tell, many won't hear. If you don't shine your light, many will stumble into eternal darkness. Tell it in the morning, tell it at noontime, and tell it in the evening! Hallelujah!
PHOTO QUOTE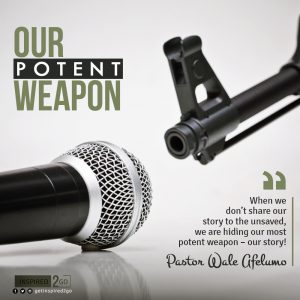 ADDITIONAL STUDY
II Kings 7:3-11, Matthew 5:14-15 & Romans 10:14
PRAYER
Dear Father, remove the veil over my eyes so I can see the unsaved. Upturn my heart to flow with songs about Your deliverance in my life. Untie my tongue to tell of Your goodness, and may the potency of my story change countless lives to Your glory in Jesus' name. Amen!