And David took the head of the Philistine and brought it to Jerusalem, but he put his armor in his tent.  I Samuel 17:54
REFERENCE
I Samuel 17:33-54
"Every worthwhile accomplishment has a price tag attached to it. The question is always whether you are willing to pay the price to attain it – in hard work, sacrifice, patience, faith and endurance." – John C. Maxwell.
If you have been in the world for a while you would have noticed that life doesn't always give you what you deserve but what you demand of it…and a way to demand is to aggressively pursue your goals. Whatever goals you have set for yourself this year, you have to first sit down and count the cost (price) to see if you will be willing to pay it or not.
The cost to pay is largely dependent on the training you are willing to pass through and endure. Our scriptural reference today gave us the background on how David was able to defeat the giant, Goliath. We saw that David had always been in the bush taking care of his father's sheep and lambs, there he encountered both lions and bears that came to steal from his sheepfold but he withstood and conquered them time and again.
Those were David's years of training; fighting with lions and bears would have taken a lot of skill, faith and courage on David's part but David endured those years of training, he did not cower in fear because of the size of the enemy, which was why he was able to go out afterwards to defeat Goliath. The prize – Goliath's head in David's hand was proof that he had sometime, somehow, and somewhere paid the price through fighting lions and bears to get to his present position.
Nothing good comes cheap but be willing like David to go all out in faith to do the needful. Your training field could be days spent in prayer and fasting seeking the face of God, it could be studying rigorously for the course you are presently enrolled on, it could be doing extensive research into particular areas of interests, it could be up-skilling yourself, it could be the ability to resist temptation, it may mean doing away with frivolous activities which steals time, it may be learning how to do things excellently, it could mean developing good character or in cultivating great relationships, etc.
Whatever it is you need to accomplish, it will all start like John C. Maxwell rightly pointed out, with 'A WILLINGNESS.' Do not fearfully look at the size of the task ahead in reaching your goals, only look in faith to God who is able to empower you to achieve those goals.
PHOTO QUOTE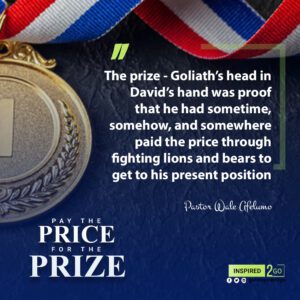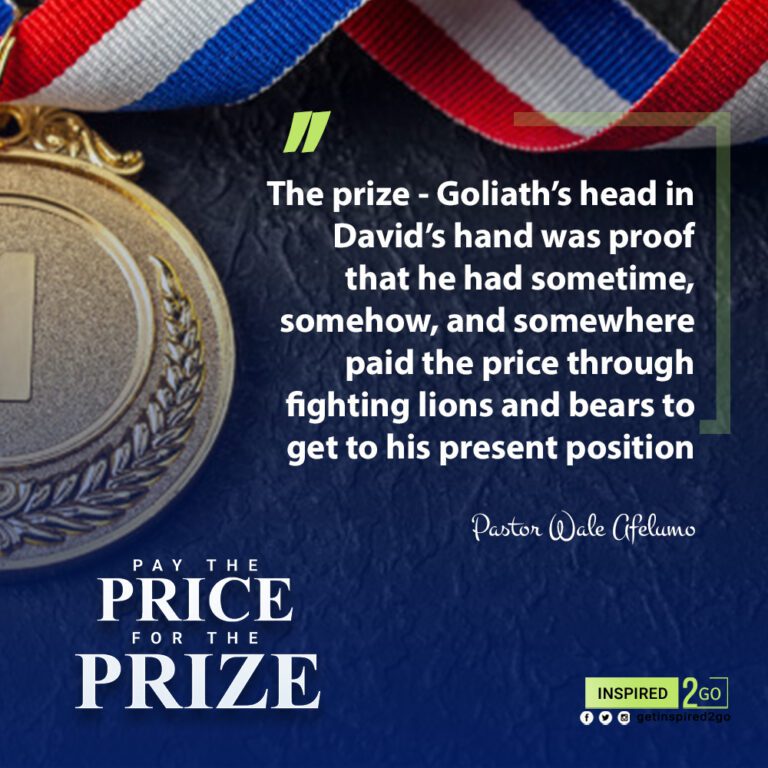 ADDITIONAL STUDY
I Corinthians 9:27, Luke 14:28-30, & Philippians 3:14
TO DO
List out the price you think you need to pay to accomplish your identified goals and keep it (the list) where you can always see it. Determine through Christ to PAY the price.
PRAYER POINTS
+ Pray that your heart will be willing first and foremost to pursue your goals with faith, hard work and patience.
+ Ask God for boldness and tenacity of spirit to enable you finish your course and obtain the prize you have set out to gain.