So Jesus answered and said to him, 'What do you want Me to do for you?' The blind man said to Him; 'Rabboni, that I may receive my sight.'   Mark 10:51
REFERENCE
Mark 10:46-52
Prioritizing your desires will help you focus your faith on what you really need in life. As seen from today's passage, it is not as if Jesus didn't know this beggar's condition when He asked him so abruptly what he would have Him do. It must have been because He desired him to fasten his faith upon one chief object of supreme desire.
Bartimaeus' needs must have been endless as a beggar; he wanted food, friends, clothing, a home, and everything that anybody would demand in order to make a man out of a pauper. But, more than these, he realized that his chief need was sight. With his sight, all those other needs would be taken care of – he could earn a living, meet and make friends, cater to his financial needs and all other needs. He must have arrived at this conclusion by digging deep into his heart to make proper inquiry.
God told Solomon to ask for 'what' He should give him in II Chronicles 1:7, and Solomon asked only for wisdom to rule God's people; God granted his desire and with that came every other thing he needed to rule and live well as a king.
There are times that what you focus on in prayers are not the things you really need. Your prayer requests may be motivated by fad or immediate gratification, and you may miss out on what is really important.
If Bartimaeus had asked for food instead of sight, he would have gotten food but he still would have been blind. Likewise, you must search your heart thoroughly, what is your 'ONE' object of supreme need that would make every other thing in your life fall in place? Prioritize that need, focus your faith on it, get scriptural backing for it and ask God for the supply.
SCRIPTURE PHOTO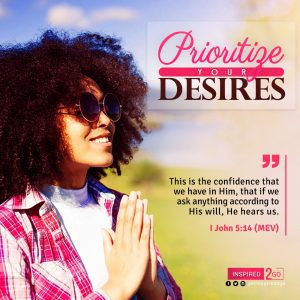 ADDITIONAL STUDY
Philippians 4:19, James 4:1-3, & I John 5:14-15 (MEV)
PRAYER POINT
Pray for an understanding heart to enable you prioritize your needs so you can focus your faith on what is really important, and receive your desired result.