Then his father and mother said to him, "Is there no woman among the daughters of your brethren, or among all my people, that you must go and get a wife from the uncircumcised Philistines?" And Samson said to his father, "Get her for me, for she pleases me well." Judges 14:3
REFERENCE
Judges 14:1-3
A passionate person is one who has intense feelings about something or a strong belief in something. Such a person can be described as being 'full of enthusiasm.' One thing I have noticed about passion is that it is universal – passionate people often display passion in more than one area of life. They are driven and hardly go half-way in anything they do. When they love, they love much, when they are disgusted, they do it wholeheartedly. Their major challenge is to find a way to properly channel their passion into productive things and things that advance their life's mission.
Samson was passionate; he never did anything halfheartedly, he was full of glow and go. There was a driving force, a consuming fire within him, one that he couldn't tame. When he was angry, he killed, when he was offended in love, he burnt a whole plantation. The same way he was passionate about God, he was passionate about irreligious women. His passion drove him to marry a Philistine woman rather than a Jewess. Passion pushed him beyond boundaries set for him by God, he touched the forbidden, ate the disallowed, married the prohibited. It was obvious that he didn't understand boundaries. In life, if you have passion without boundaries, you can self-destruct. This ultimately was Samson's saga in the end.
Passion is like an appetite, it is intense and always calls for satisfaction. In the same way a pregnant woman watches her appetite to avoid miscarriage, as a person of passion, you must watch your appetites so you don't self-destruct. Tame your passion and ensure you use it to pursue God and His purpose for your life. Don't let your good be evil spoken of.
PHOTO QUOTE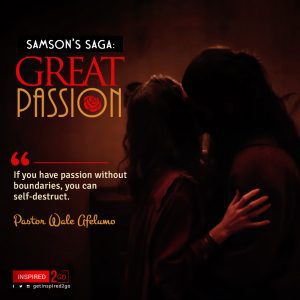 ADDITIONAL STUDY
Proverbs 22:1-3, Philippians 4:8, & Titus 2:11-14 (ESV)
PRAYER
Heavenly Father, You know my innermost being and my secret desires. Teach me to tame my passions and show me where to draw the line at every point in time in my life. May I only be passionate for the things that are true and pure in Your sight, in Jesus name. Amen!