Sing, O barren, you who have not borne! Break forth into singing, and cry aloud, you who have not labored with child! For more are the children of the desolate than the children of the married woman," says the Lord. Isaiah 54:1
REFERENCE
Isaiah 54:1-10
It takes real faith and sacrifice to sing when things are not adding up and you are not seeing the fruit of your labor. It seems almost unfair to tell someone who is experiencing a drought to rejoice, because the person doesn't have any reason to be joyful. You may have strove for so much but gotten very little in return or nothing at all. It may look like everything around you is barren, and that can be frustrating and disheartening. However, God who knows the end from the beginning gave the directive here for the barren to rejoice because He knows the story of your life won't end in barrenness.
Stop feeling bad that you don't have a place of your own yet, or that money hasn't come into your hands the way you expected, or that you are unmarried, childless or even without a job. It may appear that you have been left behind and everyone has gone ahead of you in life, but don't despair, God will give you double for your trouble and cause you to laugh at last. You have stood for God in spite of the pressure, you are standing through the storm, holding on to God's promises, choosing no 'other option' and digging in your heels in faith; be assured, God is a rewarder, He will not allow your 'waiting' to be wasted.
God wants you to forget the shame and humiliation that you suffered in the past, and to prepare for increase. Hold on and don't let go your faith, for faith will ultimately attract to you what you believe God for. This might sound too-good-to-be-true, you may not want to hope again so as to avoid being disappointed as usual, but this passage right here is a promise of God; and all you have to do is receive it by faith. The enemy may tell you not to get your hopes up again; nevertheless, do it all the same, release your faith to receive the increase that is coming your way.
So, sing because you know God cannot lie, sing because you know promotion is coming, sing because there is a name change coming – 'parent, married, blessed, healthy, lifted,' etc.. Sing because you know the promises of God can never fail.
SCRIPTURE PHOTO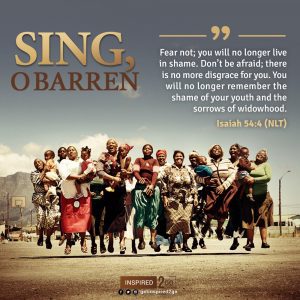 ADDITIONAL STUDY
Isaiah 61:1-7, Zechariah 9:12 & Hebrews 11:6
PRAYER POINTS
+ Thank God for His promises that cannot fail in your life.
+ Declare that you are getting double blessing for the shame and humiliation you suffered in the past.