So when the centurion saw what had happened, he glorified God, saying, "Certainly this was a righteous Man!" Luke 23:47
REFERENCE
Luke 23:27-47
Having risen through the ranks of the elite Roman army, Longinus (as church tradition names him) was a bit rough around the edges, one of those no-nonsense military leaders. He had seen it all, wars, insurrections, massacres, invasions, etc. He had jailed criminals, flogged and witnessed the flogging of many and had been forward in leading many to their deaths by crucifixion.
On this Friday that forever changed his life, his brigade was on duty. It was execution day for a 'prized' criminal who called Himself 'King of the Jews;' an affront to Emperor Caesar. He had led a detachment of soldiers to arrest Him in Gethsemane's garden. When Pilate gave the order for Jesus to be flogged, disgust and hate made Longinus' men to flog Him to a point where His flesh was torn and exposed like meat in the market.
It was execution time, Longinus led his soldiers in the procession to Golgotha's hill. Jesus was breaking down under the weight of His cross; people mocked Him, the Pharisees had a smug on their faces, satisfied that this 'false' Messiah would soon be history. At the top of the hill, he handed the mallet and nails to his soldiers and stood there as they drove the nails into His hands and feet. Jesus let out a shriek as the nails hit His nerves. Longinus felt something pierce his heart then; but he is a soldier, so he shook it off.
A few hours passed – Jesus on the cross, passers-by insulted Him, one thief abused Him, soldiers cast lots for his clothes, His refusal to drink sour wine, He cried in melancholy at God forsaking Him, the land was dark for 3 hours, He forgave His executioners, an earthquake, and the eventual cry, "It is finished!" Longinus took it all in. He wondered why Jesus took everything without any rancor, angry retort or complaint. "How could He still care about people; how could He still forgive?" Longinus thought. The pain he earlier felt in his heart returned. "The deed has been done, it's all over, He's dead, but why do I still feel this way?" He concluded that this was no ordinary man; he said, "Certainly, this was a righteous Man!" A wave of conviction overwhelmed his heart and 'opened his eyes.' He dropped to his knees.
Jesus indeed is the sinless Son of God. This was testified to, not by the religious people lest they be accused of bigotry, but it was Pilate, his wife, the thief on the cross and now the centurion by the cross. History further records that Longinus, accepted Christ as his Savior thereafter; and went on to preach Him in his native town of Cappadocia. He was martyred with other Christians (saints), years after.
Friend, if Longinus who witnessed just a day, in the Savior's life went to preach Him in his city, how much more you and I that have experienced His love for years? The whole world lies in darkness without a Savior, help them see Jesus for who He truly is. Share the Gospel with those who are perishing today.
SCRIPTURE PHOTO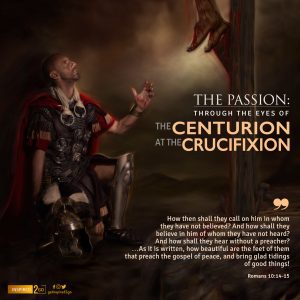 ADDITIONAL STUDY
Acts 26:12-18, Romans 10:14-15, & Mark 16:15-16
TO DO
Make out time to share the Gospel with the unsaved this resurrection weekend.