One of the criminals hanging there began to shout insults at Jesus…But the other criminal stopped him. He said…You and I are guilty. We deserve to die because we did wrong. But this man has done nothing wrong."  Then he said, "Jesus, remember me when you begin ruling as king!" Luke 23:39-42 (ERV)
REFERENCE
Luke 23:27-43 (ERV)
Amidst overwhelming pain and agony, certain of his imminent death in a few minutes, his thoughts drifted; at least, something to distract him from the rivulets of pain coursing through his body.  This 'convict on the cross' began to reflect on his life of crime, the poor choices he made, the bad friends he kept, the parental rebukes and advice he spurned, the last robbery that led to his arrest, the day the judge pronounced him guilty and sentenced to death…and now, it will soon all be over. He was broken, torn on the inside, filled with pain and regret.
He thought about his fellow convicts that Friday afternoon, especially the one hanging to his left – the Messiah. He's nothing like himself and the other convict on the far left. He did nothing wrong, except that He was accused to be the KING OF THE JEWS. He was tortured, beaten, stripped of His clothing, nailed to the cross unjustly, cussed by people, yet He did not fight back, instead He prayed for forgiveness for His executors. He wondered about how injustice sometimes proceeds from the court of justice, for this righteous Man was being punished with the wicked. However, he wasn't really being punished WITH the wicked; He was being punished FOR the wicked (Isaiah 53:5).
"If You are the Christ, save Yourself and us!" He was jolted out of his thoughts; it was his fellow convict taunting and insulting Christ. He couldn't believe that he was defiant even at the point of death, not reflecting on his fate. How his heart bled the more.
For some reason, perhaps by being so close to Jesus at the crucifixion, this convicted felon was awe-stricken by His person and was convicted of his own sin, seeing his need for forgiveness. He must have reckoned that if Jesus could forgive His false accusers, then He could equally forgive him – a sinner. With a few breaths left for him on earth, this convict changed the trajectory of his life. He blurted out with all the faith, sincerity and desperation he could muster, "Lord, remember me when You come into Your kingdom." He figured, "If He is a king, He should have a kingdom," and he secured his visa that day. He changed destination from Hades to Paradise.
Dear friend, it is never too late for you as long as you have breath; God is able to deliver you just in the nick of time if you would submit to His authority. You may be far from the Savior today, you think you are beyond redemption and there is no way out for you; but that is a lie from the pit of hell. It is not too late for you, there is no dungeon of sin that God can't save you from if you would let Him. So, if you would like to retrace your steps back to the Savior, pray this prayer:
"Lord Jesus, I come to You today, realizing my need for a Savior. I believe in my heart that You died for my sins, and resurrected to give me newness of life. Therefore, with my mouth I confess You as my Lord and Savior today. Thank You for accepting me in the beloved in Jesus' name, amen!"
SCRIPTURE PHOTO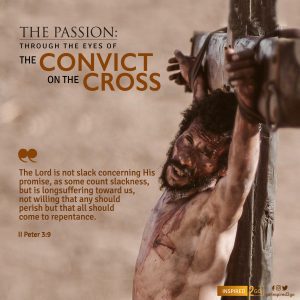 ADDITIONAL STUDY
Psalm 89:15, II Corinthians 5:17 & II Peter 3:9