The Lord turned to him and said, "Go in the strength you have and save Israel out of Midian's hand. Am I not sending you?" Gideon replied "Pardon me, my lord, but how can I save Israel? My clan is the weakest in Manasseh, and I am the least in my family." Judges 6:14-15
REFERENCE
Judges 6:1-16
"All your life they will tell you no quite firmly and very quickly. And you will tell them yes." – Nike Advert.
You may be wondering to yourself, "If I have been told 'no' by an employer, how do I then say 'yes', do I make them employ me by force?" Not quite. There are several ways to say 'yes' to situations that tell you 'no'. Although your elevation in life depends on many factors, it mostly depends on you. You (working with God) must take your destiny in your hands. Paul speaking about God's ability in him made this audacious statement in Philippians 4:13, "I can do all things through Christ who strengthens me."
In the same way, you can use the phrase 'I can' today to reveal God's ability in you no matter how many 'NOs' life throws your way. The strength of Philippians 4:13 lies in the fact that Christ strengthens us, but you must understand that without the first clause of 'I can' the second part of being strengthened will be useless. In other words, if you don't believe you can or if you think you don't have what it takes, then how does the strength of Christ benefit you? Therefore, you must come to the realization that there is a 'Super' in you that can do all things when it cooperates with God.
Paul didn't say, "I can do all things…" so you would indulge your fantasies or tempt God to answer every whim of yours. Rather, he meant whatever God in His plan has purposed and designed for you to do, that you can absolutely do because He will strengthen you to do it. Thus, if God says you should go preach to the world, even if you don't feel qualified, you can do it. If God says you should start a thriving fashion business, you can do it, even if you have no capital to start.
Isn't it amazing that God addressed Gideon as a 'Mighty Man of Valor' even before Gideon had done anything great, and while he was still threshing wheat? This is how God sees us because He made us in His image and put His divine genes in us through salvation. Still, it took long for God to get Gideon to see himself the way God saw him. God had to assure him that He would be with him; He had to keep giving him pep talks, He had to work miracles and perform signs over and over again in order to bring out the Superman in Gideon. We see then that the chief thief of all a person can become or do is self-doubt.
God affirms you like He affirmed Gideon; He knows you can do great things by His strength. But, do you believe you can?
PHOTO QUOTE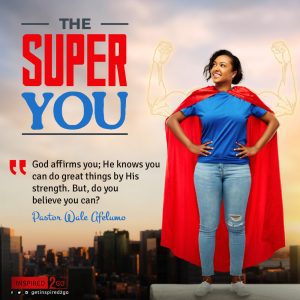 ADDITIONAL STUDY
Philippians 4:12-19, Mark 10:27 & II Timothy 1:3-7
PRAYER
Thank You Lord for Your divine genes in me which strengthen me to do whatever You have planned for me to do. Help me to cooperate with Your ability to bring out the 'Super' in me in Jesus' name.