And His disciples asked Him, saying, "Rabbi, who sinned, this man or his parents, that he was born blind?" Jesus answered, "Neither this man nor his parents sinned, but that the works of God should be revealed in him. John 9:2-3
REFERENCE
John 9:1-7
If you are human at all, I know that sometimes, you get to a point where some things are not working for you or not happening like you want, and the first thing you do is, "What have I done wrong? Where is this coming from? Who did I offend?"
This becomes even stronger when you have a belief in generational curses and the power of the occult. It has therefore almost become second nature to always attribute a delay, setback, misfortune, pain, ailment, etc., to something somewhere. However, the tragedies of this world are a consequence of man's sin and fall. Just because you have them doesn't mean you are worse than others, and if you have few, you are not better than others.
Many Jews believed that bodily afflictions were proofs of sin in the soul. So, when the disciples saw the blind man in this story, the doctrine of transmigration of souls (a pharisaical teaching) came to their minds, which made them ask Jesus if the man was suffering for something he or his parents did.
Jesus basically answered them, "I'm not here to answer such questions, but to work the works of God, while I can." Then Jesus went ahead and, by a miracle, healed the man to prove that healing is part of God's work and it is His will. The work of God is to reverse bad conditions, to destroy the works of the devil in a man's life, to deliver him from his affliction and bring glory to God.  Simply put, it is to show God's sovereignty.
The disciples saw this man as a puzzle; but Jesus saw him as a suffering man needing divine relief. The beauty of this story is the fact that it contrasts people's opinion about a man's battles with that of God. Where people see a problem or a hopeless case, God sees opportunity.
So, that challenging situation in your life it is not from sin, from parents or from a disadvantage. It is a divine set up. Stop blaming yourself or any and everybody, expect a turnaround – EXPECT GOD'S INTERVENTION. The challenge is not there to shame, humiliate, limit, embarrass or make life difficult for you; rather, it is your connector to the power of God, to reveal 'God's works' in your life!
PHOTO QUOTE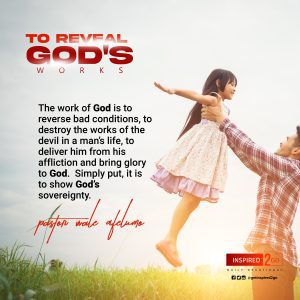 ADDITIONAL STUDY
John 5:1-9, Romans 8:28, & I John 3:8b (AMP)
PRAYERS
Whatever represents Satan's work in my life, I command it to be destroyed. Father, let every reproach in my life be rolled away today by the authority in Jesus' Name.
I eradicate from my mind, thoughtless questions, misplaced anger, offence or blame. I instead believe that all things are working for my good; I believe that no matter what the root of my challenge maybe, I am set for the miraculous works of God to be revealed in my life in Jesus' name.