Now in my prosperity I said, "I shall never be moved." Psalm 30:6
REFERENCE
Psalm 30:6-7
When I think of a lullaby, I think of the popular song, "Rock-a-bye Baby." One account says it pictures a mother trying to rock her baby to sleep and singing to her. A lullaby simply suggests a sweet and melodious song whose sole objective is to send you to sleep unexpectedly. You may be enjoying the song, but the ultimate goal is to send you to sleep, becoming unaware of your environment.
David, in our text, fell into the great temptation of wealth or prosperity – a false sense of security; having looked at all his wealth, his attainment to the throne, the vastness of his kingdom, the obedience of the people, etc., he said he would not be moved. This is what the bible calls the deceitfulness of riches. David, like many people blessed with wealth, felt confident and forgot that grace promoted him and not efforts, that he was grace-made and not self-made. His prosperity was already sending him to sleep – making him lose touch with reality, creating in him a sense of invincibility.
However, David also saw the folly of his assertion because in verse 7, he said, "You hid Your face, and I was troubled." Yes, David saw that prosperity without God's grace can make a monster out of a man. David, as a poor man, would not dare hurt Saul who tried to kill him, but in prosperity, he killed Uriah, his loyal subject and took his wife. He thought his prosperity placed him above the law – he was mistaken…wealth had sung him a lullaby and he was deceived.
Prosperity is good, but it can sing us to 'sleep', make us unconscious of the potential danger it poses, when not submitted to God and used for noble causes. Often, it promotes pride, a false sense of security and of 'I am above other men,' super-humanness, a feeling that you can do and undo at will, and at its worst, it makes you feel you don't need God. Like a sweet lullaby, wealth can dull your spirituality and make you renege on your commitment to God.
To avoid a scenario where wealth dulls your spiritual senses, you have to let God know that He is the one that has your heart, not money. Commit to make money a servant, even before it comes; know that God is your source, not money; prayer is your covering, not money; and it is by grace that you stand, not by money. Also, don't hoard it, give it as God leads and needs it for His kingdom work. Not understanding these will make you a victim of wealth's lullaby.
PHOTO QUOTE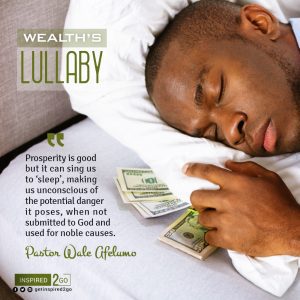 ADDITIONAL STUDY
Proverbs 1:32 (KJV) Isaiah 47:8-9, & Luke 12:13-21
PRAYER POINTS
+ Ask God's forgiveness where you have allowed your spiritual senses to be dulled by wealth.
+ Pray for grace to always put God before wealth in your affairs.
+ Pray for wisdom to henceforth handle money as a servant and not your master; that you will not be a victim of wealth's lullaby.