"Also let the gold and silver articles of the house of God, which Nebuchadnezzar took from the temple which is in Jerusalem and brought to Babylon, be restored and taken back to the temple which is in Jerusalem, each to its place; and deposit them in the house of God" Ezra 6:5
REFERENCE
Ezra 6:1-12
The prelude to this account started when King Cyrus gave the command for the captive Jews in Babylon to return to their land to rebuild the city and the temple of God. After his death, Darius became king and some enemies of the Jews wrote a protest letter to him to stop the Jews from proceeding with the work because they didn't have the right to build. Furthermore, they asked him to check the records to see if the Jews had the right to build as they claimed to do; so, Darius checked and confirmed Cyrus gave the command earlier. Therefore, Darius gave a further command for the work to continue uninterrupted. (See Ezra chapters 1 & 5).
When God is ready to avenge all that the enemy has wrecked in our lives, He will make sure that the devil pays for it adequately. God caused Cyrus to fund the project, the rebuilding of His temple (destroyed by the malice of hell) from the King's treasury; He would not suffer His people to collect an offering a second time for the project as they did at the beginning, and moreover, their captivity had impoverished them.
Sometimes, God will sovereignly move Satan and his agents, with all their stolen resources, to sponsor His project(s) and equip His children. He made Pharaoh to pay for Moses' schooling – and Moses got the best education of his time. Persia paid for Hadassah's (Esther) Finishing School and beauty treatment. He caused Israel to plunder Egypt as they marched out of 430 years of captivity.
Also, we see here that all the articles of gold and silver that Nebuchadnezzar had taken from God's temple were returned (Exodus 2:1-10, & 12:35-36).
This is a demonstration of 'restoration' as God planned it – to give you what you lost or what was stolen, and to give you a whole lot more. God's restoration takes you to a place better than you were before, like Job's restoration, and our arrival in heaven will be a restoration that is way better than the Garden of Eden. Jesus assures us in Matthew 19:29 that whatever we lose through obedience to God in this life, we will regain it in a hundredfold and also receive eternal life.
Satan is a thief; and when the thief is caught, he is made to pay seven times, what he stole. Whatever has been stolen from you must be restored better in Jesus' name. You will not end in shame, your history of bereavement will turn to a future comfort and joy, you will recover your lost fortunes, and God will cause you to laugh again. God will always outdo Satan and outwit him. God will always have the winning shout and the last laugh in your life. Hallelujah!
PHOTO QUOTE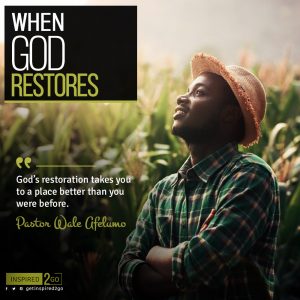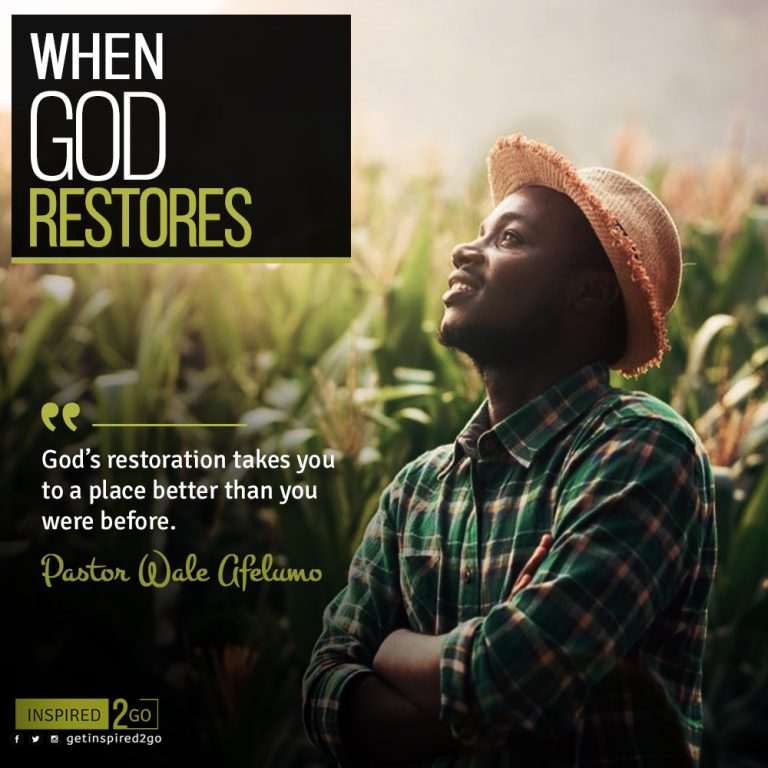 ADDITIONAL STUDY
Job 42:12-15, Proverbs 6:30-31, & John 10:10
CONFESSION
I declare that the thief that stole from me has been caught today; therefore, I demand and receive a seven-fold restoration of everything that was stolen from my life in Jesus' name.