God is our refuge and strength, a very present help in trouble.  Psalm 46:1
REFERENCE
Psalm 46:1-11
Trouble is anything that gets you worried and agitated; it normally brings discomfort, inconvenience, anxiety, fear and discouragement. In John 16:33 Jesus said: "…In this world, you will have tribulation, but be of good cheer, I have overcome the world." So whether you expect it or not trouble always comes, but you can rejoice in the truth that Jesus HAS (past tense) already overcome the troubles in the world for you and stripped it of its power to harm you.
Many Christians don't want to come to terms with the fact that in life trouble comes to everyone; maybe it's because they don't know or don't understand. So, when trouble shows up, we see Christians run from pillar to post; sometimes they backslide, stop attending church or even abandon their faith completely. In their minds, they are like…"God, why did You allow this to happen to me? Why me? I didn't bargain for this, life is so unfair, etc."
Nobody bargains for trouble. It is not God's will for you but it comes anyway because the world we live in is a fallen world and we have a devil to contend with. Thus, you don't have to do anything wrong; just being alive attracts the troubles of life. Troubles are unavoidable, but since Jesus has already overcome for you, you can be triumphant over them.
God in this psalm gives an assurance that He will always be present with us whenever trouble shows up. The peace of His presence can calm any raging storm and cause wars to cease. He is present with us as our stronghold (our secured place of refuge).  Therefore, we do not have to fall apart if trouble comes to us. Rather, God's recommendation is for us to remain STILL – immovable, and recognize that He is God, He is always with us even in the midst of trouble;  and He won't abandon us but carry us through troubled times.
Romans 8:31b says, "If God be for us who can be against us?"  And, Hebrews 13:6 says, "The Lord is my helper; I will not fear. What can man do to me?" this invariably means, regardless of who (the kind of trouble) that is set against us, we shouldn't be afraid; God is for us, He is undefeatable, so, trouble can't defeat us.
SCRIPTURE PHOTO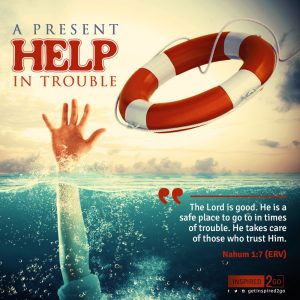 ADDITIONAL STUDY
Isaiah 43:1-4, Nahum 1:7 (ERV), & Mark 4:33-39
CONFESSION
When I pass through the troubled waters, they won't overwhelm me. And when I pass through fire, I won't be burned because God is with me. Therefore, through the help of God, I will be the last man standing against any trouble that comes to test my faith. I will be still to the end, and I will have the last laugh in Jesus' name. Amen!