We are hard-pressed on every side, yet not crushed; we are perplexed, but not in despair; persecuted, but not forsaken; struck down, but not destroyed. II Corinthians 4:8-9
REFERENCE
II Corinthians 4:8-9
Apostle Paul was one of the Greatest Of All Time (GOAT) in Christendom. Even though his ministry was marked by countless hindrances, he still attained great heights and fulfilled God's call on his life because he decided to be unstoppable. All through the Bible and even in today's world, it appears that every great man/woman once had a great hindrance, but they did not allow the hindrance stop them.
Joseph was thrown into a pit by his brothers, served as a slave in Potiphar's house, imprisoned unjustly; yet he still became a Prime Minister in a foreign land and fulfilled God's dream for his life. Likewise, David was anointed King but still tended sheep. Against all odds, he won a fight against the champion Goliath and was taken to Saul's palace. Not long afterward, he became a fugitive because of Saul's rage against him. He ran for his life and was in hiding for several years before he was finally ordained, king. Ruth followed Naomi to a foreign land despite her lack of prospects; she stayed put with her until the tables turned in their favor. These bible heroes/heroines, in spite of their challenges, attained success and achieved greatness because they decided to be unstoppable (See Genesis 50:15-21, II Samuel 5:1-5, Ruth 4:13-22).
You cannot give up now just because of the hindrances confronting you. Life is not about what you could not do so far; it's about what you can still do. Almost every successful person you see today has a story; they decided to be unstoppable at certain points in their lives.  Here are some real-life examples:
"I was raped at the age of 9, became pregnant at 14, son died an infant" – Oprah Winfrey
"I was sexually, mentally, emotionally and verbally abused by my father as far back as I can remember until I left home at the age of eighteen." – Joyce Meyer
"I used to serve tea at a shop to support my football training." – Lionel Messi
"I was in prison for 27 years." – Retired President Nelson Mandela
Be UNSTOPPABLE. Let your story be a motivation for others. God made you to be resilient and indomitable – as seen from our text…you are built to last and to outlast every storm. This present chapter is not your final chapter. Understand this, "If Satan can't stop you from starting; he will distract and discourage you from finishing." So, be unstoppable. Life will always present you with a million reasons to quit. But, you must find a million reasons to keep on keeping on – Don't stop!
PHOTO QUOTE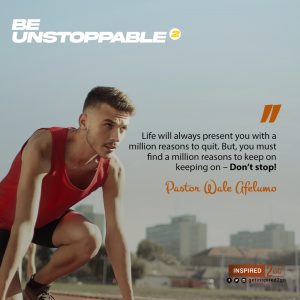 ADDITIONAL STUDY
I Kings 19:1-8, Acts 4:1-21, & I Corinthians 10:13
CONFESSION
God will complete and perfect matters that have remained incomplete around me. The promises of God that have long delayed and remained unfulfilled will be fulfilled this year. Prayers that have remained unanswered for many years will be answered in my life this year. My efforts that are yet to bear fruits will yield results this year. I AM UNSTOPPABLE – I KEEP MOVING, I KEEP GOING, I KEEP PRESSING UNTIL I SEE MY BLESSINGS in Jesus' name.