So he went down and dipped seven times in the Jordan, according to the saying of the man of God; and his flesh was restored like the flesh of a little child, and he was clean.  II Kings 5:14
REFERENCE
II Kings 5:1-15
After all he must have tried to get a solution for his ailment, Naaman was still told to go dip seven times in River Jordan. Quite embarrassing you would agree, for a top military brass to strip by the river side and dip in the river. Imagine that as he kept dipping and coming out, nothing happened – do you know he must have fought with thoughts of quitting? He must have thought to himself, "It isn't worth it, maybe this is my lot in life, maybe my situation can't improve, how many times will I keep dipping, what if the situation remains the same at the seventh dip? This is embarrassing!"
Naaman would have felt very discouraged especially at the sixth dip when no physical changes seemed to have taken place in his body.  But despite the discouragement he might have felt, he still went on to dip the seventh time and, Voila! he got his miracle. Many of us would have stopped probably by the sixth dip because of discouragement, just like we have stopped praying about many things because we are tired of raising the same prayer point with no evident result. In life, discouragement mostly comes when you are almost hitting gold.
Thomas Edison said, "Many of life's failures are people who did not realize how close they were to success when they gave up."
The sixth time in life represents a time when all your efforts have failed, when you have reached the end of the rope, pulled all your strings but yet, it seems your problem does not answer to any known solution. But instead of stopping at the sixth time, go all the way to the seventh – the time of God's supernatural intervention, the time of God's rest and perfection. The woman with the issue of blood tried and failed, she got no better but worse after consulting with several physicians. She could have said to herself. "I have tried, I am not trying again." But instead she said, "Just this once…"and it became her seventh."
Today, I encourage you not to quit at the sixth time (six being the number of man) – go all the way! Yes, it is tiring and you are exhausted from trying, but as long as you are alive, there is still hope for you. I end with this quote by Michael Jordan, "If you quit once it becomes a habit. Never quit!"
SCRIPTURE PHOTO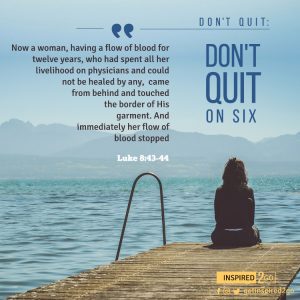 ADDITIONAL STUDY
Luke 8:43-48, II Corinthians 5:7, & Hebrews 10:38-39.
PRAYER POINTS
+ Bind the spirit of discouragement and declare over yourself that you are not a quitter.
+ Ask God to make today your seventh dip and bring you to a place of completeness, of rest, of totality and of perfection.