But Naaman became furious, and went away and said, "Indeed, I said to myself, 'He will surely come out to me, and stand and call on the name of the Lord his God, and wave his hand over the place, and heal the leprosy.' – II Kings 5:11
REFERENCE
II Kings 5:1-15.
Up until the point when Prophet Elisha sent a message to Naaman to go wash in the Jordan seven times for him to be cleansed of leprosy, Naaman did everything right in anticipation of getting his miracle. However his outburst at Elisha's message put a little dent to his erstwhile praise report. Naaman's problem was that he had a preconceived way he thought his miracle should happen. His pride would not let him see that his previous 'conventional' efforts at recovery had failed. His mind was locked on a particular method of how God will come through for him…and that made him to almost miss his miracle.
There are several biblical examples of how God used unconventional methods to produce miracles for His children; most times they followed His instructions and got their miracles, at other times they did not and missed out on what God wanted to do. Can you imagine how the story would have gone for the Israelites if Moses, in fear or doubt, had refused to follow God's unconventional method by stretching out his rod to part the Red Sea when their enemies were hot on their heels? What would have been the story at the wedding feast at Cana when the wine finished, if the servants Jesus instructed to fill the pots with water and serve the guest of honor were reluctant to follow through because that was an unconventional method of vinification (process of wine-making)?
Are your eyes fixed on a particular person as your helper? Is your mind locked to a particular approach to getting a miracle? What prescription have you given to God on how to help you or bless you? Can God interrupt your program and change your plans? Can you let Him be God – sovereign in your affairs? You must realize that God sometimes uses unconventional methods to meet needs; thus, you must be open to whomsoever or whichever method He chooses to use in getting your miracle to you.
God is not limited to a particular method of bringing you a miracle; so, don't limit yourself to a particular way of receiving one.
PHOTO QUOTE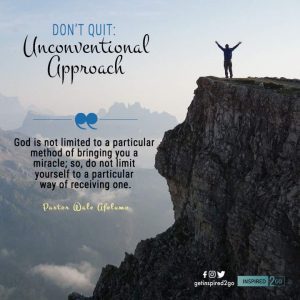 ADDITIONAL STUDY
Exodus 14:10-29, II Kings 7:1-2, 17-20, & John 2:1-10.
PRAYER
Lord I open myself to receive my miracle from whomsoever or whichever method You choose to do it. I remove every form of limitation I placed on You, I ask You to interrupt my program, change my plans and be sovereign in my affairs.