Then the king of Syria said, "Go now, and I will send a letter to the king of Israel." So he departed and took with him ten talents of silver, six thousand shekels of gold, and ten changes of clothing. II Kings 5:5
REFERENCE
II Kings 5:1-15.
Someone once said that salvation is free but you still need to buy a bible. In other words, there are sacrifices one needs to make to see that anticipated or expected change in their situations. To get something better, we must be willing to let go of what is in our hands. Life is about 'trade-offs', letting go of what is less valuable or important, for something of great worth. It may be letting go a habit that's holding us down, excessive sleep or watching TV, a temporary comfort, an unhealthy relationship, a financial sacrifice, etc.
Our case study, Captain Naaman, was willing to pay the price for his miracle, of course, nobody can pay for a miracle of God, but he understood the concept of 'trade-offs'. I mean, see what he was ready to part with to get what he wanted? Silver, Gold, Clothing and the inconvenience of journeying to another city to seek help. In his mind, 'What's the use of nice jewelries and expensive clothing when I have a sick body?' He was willing to let go what he had, to get what he didn't. Now, beyond the material things Naaman parted with, he was willing to let go his ego; he embarked on that journey at the advice of his slave maidservant, he was going to go to the land of a people they have conquered for help, and although he struggled with Elisha's instruction, he was willing to listen to his servant and to dip in a 'filthy' river. Really, what are you willing to let go?
It has been said that, "What you are willing to walk away from determines what God is willing to bring to you." Many of us want a change in our situation (condition) but we do not want to change our situation (position), and nothing moves until you move. What is the extra mile you are willing to go for your miracle? What are you willing to part with? Will you deny yourself certain pleasures? Will you go get counsel? Will you pray extra? Will you take your relationship with God more seriously? Will you sow a seed or part with something precious, not because it purchases your miracle, but expresses your deep need and desperation to God?
Blind Bartimaeus was willing to throw away his 'garment' to have his sight restored and the Syro-Phoenician woman did not mind losing her 'dignity' to get healing for her daughter. The extra-length you go sometimes shows God how desperate you are – Jacob wrestled with God all-night and said, "I will not let you go unless you bless me." (Genesis 32:24-29)
SCRIPTURE PHOTO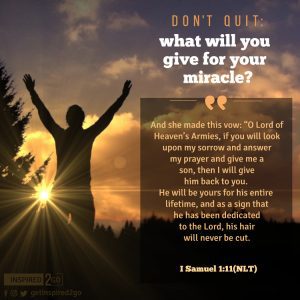 ADDITIONAL SCRIPTURE
I Samuel 1:8-11, Mark 10:46-52, & Mark 7:25-30.
REFLECTION
+What things are you willing to walk away from/part with in a bid to change your situation?
+In what areas will you go the extra mile to show that you are committed and eager to see a miracle in your life?