The centurion answered and said, "Lord, I am not worthy that You should come under my roof. But only speak a word, and my servant will be healed. For I also am a man under authority, having soldiers under me. And I say to this one, 'Go,' and he goes; and to another, 'Come,' and he comes; and to my servant, 'Do this,' and he does it."  Matthew 8:8-9
REFERENCE
Matthew 8:5-13
Romans 8:17 reveals that as a believer, you are a son of God and an heir of God through Christ; and as a son, authority has been conferred on you. The way to exercise your authority is by speaking, 'for where the word of a king is, there is power' (Ecclesiastes 8:4). A king exercises his authority by speaking; he issues decrees which are carried out.
While in an office, you saw a big man, dressed in a nice black suit behind a desk, then, a smaller man with a pair of jeans and simple t-shirt peeps in from an inner office and calls the big man. Suddenly, the big man jumps to his feet and runs to the small man's office; you don't need to ask, you should know who is in authority between the two of them – it is obvious, the smaller man wears the crown in that company. Authority is ultimately determined by who or what answers to you when you issue a command or speak.
The centurion in today's text said: "I am a man (of and) under authority…I say to this one 'go' and he goes…" Therefore, as an heir to God's throne, the authority of Christ has been given to you; you must exercise it by speaking God's Words authoritatively; circumstances will respond to you when you do.
In the movie, "The King and I," the king made so many strict decrees and laws in his Siamese kingdom which everyone obeyed. But on his deathbed, he handed the kingdom to his son, the crown prince, a teenager. The moment the son understood he now had authority he overturned some of the unfriendly rules of his dad and promulgated new laws. His father watched with pleasure, for he knew the kingdom would have a decisive king who understood authority. Yes, the crown prince knew he wore the crown.
Likewise, if you understand your authority in Christ, you can change what has always been. When you see a pattern you don't like in your family, career, finances, ministry, or otherwise, arise in your authority and fight it. Don't romance it, don't cry over it, don't blame it on someone else, and don't surrender to it. Make authoritative declarations to change existing patterns and establish new order of things, and so shall it be for you, in Jesus name. The Father in heaven is waiting for you, give Him pleasure by using your authority.
SCRIPTURE PHOTO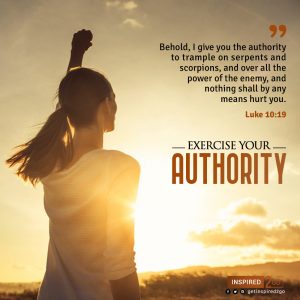 ADDITIONAL STUDY
Psalm 82:6, Luke 10:19, Mark 11:12-14, & 20-24
TO DO
Find appropriate Scriptures for whatever you are dealing with in your health, finances, job, business, marriage, relationship, etc., and speak authoritatively to change negative patterns and establish favorable patterns.