Joshua, you must be strong and brave! You must lead these people so that they can take their land. I promised their fathers that I would give them this land. Joshua 1:6 (ERV)
REFERENCE
Joshua 1:1-9 (ERV)
Yesterday, we established the fact that when you understand that you have a purpose to fulfill, it motivates you to get back on your feet even after you have suffered bereavement (a major loss). That was the case with our point of reference – Joshua. God did not only encourage Joshua's heart by showing him the purpose he had to fulfill, He also showed him that there was a possession to receive and He promised to protect him in all his sojourn.
In taking Joshua from bereavement to becoming all He wanted him to, another piece of encouragement that God injected into his broken heart was that there was a people he had to serve – the children of Israel. God saw in Joshua what his bereavement must have blinded him to, his militaristic, fighting skills. Unlike the meek and gentle Moses, God knew Joshua had the audacity to lead the Israelites into battle to take enemy territories. Joshua couldn't afford to give up on life if these skills of his could help a whole nation of disenfranchised people. What would have become of the Israelites if he threw in the towel at Moses' demise and refused to heed God's command to lead them? Perhaps, when he saw how connected his life was to the destiny of God's people, he gathered strength to rise from his misery and took the role of a leader.
Your life is connected to those of others, no matter how unimportant you think you are or how much your loss has clouded your vision. The next step you take or don't take will affect others. If you stay stuck in the place of your bereavement, those who are to benefit from your 'becoming' – your experiences, skills, talents, mentorship, etc., will also become stuck. Imagine if someone like Bill Gates threw in the towel because he lost something valuable as a teenager, how would his life have benefitted the many lives connected to him today? Just because you don't see them now doesn't mean there are no people connected to you.
You are benefitting from this devotional today because I decided to hang in there and move on, in spite of my 'losses' in the past. If you hang in there, you will impact countless lives. Don't let your experience go to waste because you can't seem to see your way out after suffering a bereavement. Many people would benefit from your books or articles, scholarships, friendship, expertise, mentorship, business, leadership, ministry, etc., if you decide to go on with your life despite your setback.
Ruth rose from the tragedy of bereavement to become a heroine of faith, even in Jesus' lineage. Her story still teaches many in the world today about how God can turn tragedy into triumph. The Good News Translation of Proverbs 27:17 says, "People learn from one another, just as iron sharpens iron." Arise from your bereavement and 'become' – there are lives connected to you, there are people waiting for you.
PHOTO QUOTE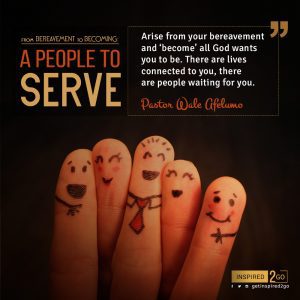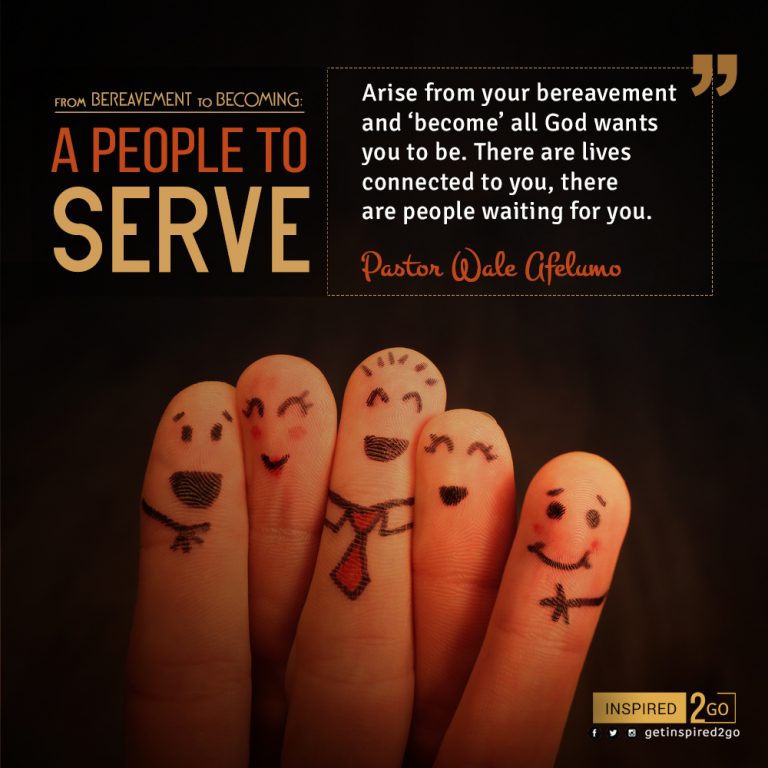 ADDITIONAL STUDY
Judges 6:11-16 Galatians 6:2, & I Peter 4:10 (NIV)
PRAYER POINTS
+ Ask God to help you stay strong and not throw in the towel for the sake of those connected to your life – the people God has called you to serve.
+ Pray that what you know and what you have will benefit others and make them 'sharper;' also that you will be the answer to someone's need for help.