What is man that You are mindful of him, and the son of man that You visit him? … and You have crowned him with glory and honor.  Psalm 8:4-5
REFERENCE
Psalm 8:1-9
This is just a beautiful Psalm about how important man is to God. It starts with a focus on the beauty and glory of God, and then onto His amazing creations like the moon, stars and the heavens. Finally, it goes on to talk about how mind-full God is of man, to make man the ruler over all these amazing creations.
Verse 5 says, 'man is crowned with glory and honor.' This means that man is distinguished; has great beauty, is of good quality and is to be highly esteemed. When God visits (fellowships) with you, His thoughts are on how you can access His divine wisdom to live well, manage and subdue the universe He has put under your control. All of these boil down to one truth – you are so precious to God that He made you the object of His affection.
Just imagine waking up one morning and getting a call from an esteemed loved one who tells you that you were on their mind all through the night. I am sure that will make you feel really special all through that day. Yet, that is what God brings to the table every day; His mind is eternally filled with good thoughts about you. So feel special!
Let this be a good reason to rejoice and look forward in life. Just knowing that the One who made all things is mind-full of you should give you a healthy self-esteem and worth. So, it does not really matter what others think about you or what your situation looks like right now, the truth remains: the King of all Majesty has given you 'Significance.' By affirming you in this Psalm, He has shown that He approves of you and will stand by you as you reign victoriously over the things He has put under your feet.
You are not ordinary or valueless, so carry yourself MAJESTICALLY!
SCRIPTURE PHOTO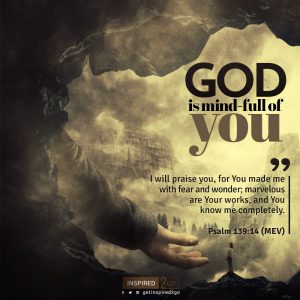 ADDITIONAL STUDY
Psalm 139:13-18, Jeremiah 29:11, & 1 Peter 2:9
PRAYER POINTS
+ Thank God for His mindfulness towards you and for conferring significance on you
+ Pray for grace to walk conscious of who you are, and for wisdom to properly manage and subdue the things God has put under your control