But the hour is coming, and now is, when the true worshipers will worship the Father in spirit and truth; for the Father is seeking such to worship Him. God is Spirit, and those who worship Him must worship in spirit and truth. – John 4:23-24 
REFERENCE
John 4:20-24
Worship means to regard with great devotion or to honor as a divine being. The dictionary defines it as, "The feeling or expression of reverence and adoration for a deity." To a believer, it means regarding God with great devotion and ascribing worth to Him. Often, in the place of worship, the power of God is released.
The act of worshiping God in the Old Testament took various forms, people believed different things. However, in today's passage, Jesus explained how New Testament believers should offer true and acceptable worship to God.
Firstly, we are made to understand that God is not a person located in a particular place, He is Spirit. So, worship shouldn't be restricted to a place; anywhere (church, school, car, office, home, etc.) we choose to worship God is acceptable as long as we do it in the spirit – it must involve our hearts and flow from our hearts, not mere physical displays because in worship; God looks at the motives of the heart more than the motions of hands Also, our worship must correspond to the spiritual nature of God, because anything less than that will mean giving Him something less than He deserves.
Secondly, worship must be done in truth – i.e. in sincerity and genuineness. The words you speak when worshiping must be thoughtfully offered to God and not just mouthed, they must be meant. Even though worship often releases God's power, worship that does not sincerely proceed from the heart will only produce a form of godliness, no power comes with it.
Jesus calls us to this new order of worship because God desires worship and He seeks true worshipers; those with pure and humble hearts, filled with respect, joy and gratitude.
When we follow Jesus' instruction by offering acceptable worship to God, we will experience the power of God in our worship. Then we would see that:
Our faith in God is stirred and strengthened – Romans 4:20
God's manifest presence will usher in the fullness of joy in our lives – Psalm 16:11
We will draw men to God – John 12:32
We will easily come out of logjams –Acts 16:24-26
In life, everyone worships something because we are all made for worship – we all bow at some altar, and what we give our time to the most is an indication of what or who we worship.
Will you answer God's call to be a true worshiper today?
PHOTO QUOTE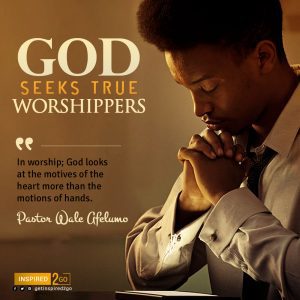 ADDITIONAL STUDY
I Samuel 16:7 and Matthew 15:8-9.
PRAYER POINT
Ask the Holy Spirit to teach, lead and guide you to that place in worship where your heart connects with God's heart; where you can worship genuinely, and where you can experience His manifest power through your worship.