"For the oppression of the poor, for the sighing of the needy, now I will arise," says the Lord; "I will set him in the safety for which he yearns."  Psalm 12:5
REFERENCE
Psalm 12:1-5
Living in the city means you do not hear a tree fall in the forest. The fact that you do not hear it does not mean that the tree did not fall. There are several events of life that we never hear, see or know anything about, because of the limitations of our human nature. However, there is a God who knows, and is intimately aware of everything that goes on in this earth realm – from the minutest to the biggest.
He knows when the tree falls, when the whale gives birth and when the lion hunts its prey. He hears the rumbling of the volcanic mountain before it ever spews out its lava, He guides the worm as it burrows the soil, He ensures that every bird is fed daily and He sees the raging storm. He is in every hospital room, prison room and bedroom. His loving eye runs to and fro the earth and sees the oppression of His children on earth; He does not just see, He will avenge them.
Are you in a situation where certain persons feel they can determine your rise or fall? They constitute themselves into terrors and invent ways to cause you pain; they tyrannically use their positions and powers to subject you to hardship? God is not unaware. He has a book; He takes ample notes. David said in Psalm 56:8&9, "You number my wanderings; put my tears into Your bottle; are they not in Your book? When I cry out to You, then my enemies will turn back; this I know, because God is for me."
The oppressed will not always be harassed by his oppressor. He can be confident that God sees the wickedness of his oppressors, and He hears his groans and sighs. Be assured that God will grant you the peace and freedom you long for; it won't be long. He knows the oppressor by name, and has his heart in His hands. He feels your pain, hears your prayers, and sees the injustice and the abuse…and He writes them in His book.
Leave the battle to God; maintain an attitude of praise, don't use the arm of flesh to fight, don't curse them back, don't pray for their destruction, neither should you try to get revenge. God knows what to do. He did it for Israel at the Red Sea and did it for Mordecai when Haman became his avowed enemy. Don't think you are helpless; He who is for you is greater than those who are against you.
God notes all, and takes notes! Be assured that help is on the way!
SCRIPTURE PHOTO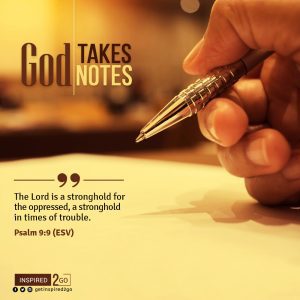 ADDITIONAL READING
Psalm 9:9 (ESV), Psalm 139:1-18 & Exodus 3:4-10 
PRAYER 
Lord, I thank you because I know You know all about me and my situation. I rest in you and leave my battle to you. Fight for me and give me the victory, in Jesus name.