For Herod feared John, knowing that he was a just and holy man, and he protected him. And when he heard him, he did many things, and heard him gladly. Mark 6:20
REFERENCE
Mark 6:17-29
To put the records straight, Herod is a title-name of a royal family that flourished among the Jews in the time of Christ and the Apostles, the first of whom was Herod the Great, who ordered the killing of babies 2 years old and younger when Jesus was born (Matthew 2:16). The Herod in our text is his son, 'Herod Antipas,' a shameless man who took his brother's wife and jailed the prophet (John the Baptist) who tried to rebuke him for his incestuous behavior.
While John was in jail, Herod called for him to preach to him. Somewhere in his heart, he knew that John the Baptist was a just and holy man and for that, he revered and respected him. Although himself a bad man, he recognized that John was a good man. Interestingly, our text records that Herod heard John gladly and did many of the things he heard him preach about.
Many things, not all things; that was Herod's problem. His devotion was half-hearted. He chose what he wanted to obey. He heard it was wrong to take his brother's wife, but he didn't change, he heard about injustice, but he didn't get John out of jail. However, he heard him gladly; he loved his preaching, he was elated at the gracious words he used in his preaching, but he chose only what he would obey. Herod can be likened to those who received the Word with gladness and sprout, but because of lack of roots, died when the 'sun' of persecution shone on them in the 'Parable of the Sower.' (Matthew 20:21) Herod was very passive in his approach to God, to His Word and to His messenger.
Google online dictionary defines passive as 'accepting or allowing what happens or what others do, without active response or resistance.' "Without active response or resistance." That is being passive or being lukewarm. It is not a good place to be as a Christian – excited about God, yet would not obey Him, glad to be in church, but would not participate in her activities, like the preacher's sermons, but would not do them. It is passivity! God expects an active response from us to His Word and instructions; He expects us to go ahead and do what we know is right, when He tell us it's the right thing to do.
Passivity if not dealt with will eventually lead to mediocrity, it will rob you of being your best and it will eventually put you in situations where you will compromise your convictions, as Herod later did. Make up your mind to renew your zeal for the Lord. Don't just get excited about His Word, actively respond in obedience. Don't just know Him to be a good God, serve Him with all your heart.
PHOTO QUOTE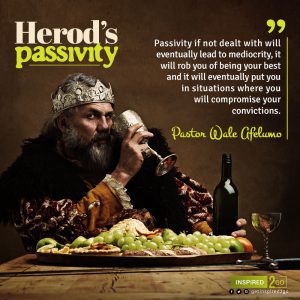 ADDITIONAL STUDY
James 1:22-25, Hebrews 4:2, & Revelation 3:14-16
PRAYER POINTS
Uproot any root of passivity in you, and declare it won't be expressed through your life in Jesus' name.
Ask for grace to be responsive to God's Word, that you will be prompt to do what the Word says whenever you receive it.