Then an opportune day came when Herod on his birthday gave a feast for his nobles, the high officers, and the chief men of Galilee.  Mark 6:21
REFERENCE
Mark 6:17-29
As we continue to look at Herod Antipas, we see the danger of procrastination in the events that took place in his palace. To procrastinate is to delay or postpone action; or to put off doing something. We read yesterday about passivity: "If not dealt with, passivity will eventually lead to mediocrity…and it will eventually put you in situations where you will compromise your convictions, as Herod later did." It then can easily be deduced that at the root of procrastination is passivity, not being fired up enough or convinced enough to act on something you know you should act on.
King Herod knew that John the Baptist was guilty of no legitimate offence; he knew that his criticism of his illegal takeover of his brother's wife was just and he knew he was a good and holy servant of God Most High. Herod must have severally felt the 'urge' to release John; to discharge and acquit him of all charges, but he never acted on it; perhaps, he kept pushing it forward to a more convenient day. However, our text reveals that an opportune day came…a day Herod would most likely live to regret. Truly, passivity eventually leads to a compromise in conviction.
When we do not use occasion to do the right thing we ought to do at the right time, the devil will create an opportune time for us to do the evil we know we ought not to do. For his failure to act on time, Herod found himself in a situation where he could do nothing but unjustly kill John the Baptist, thereby, acting against his conscience and convictions. Procrastination is often not as harmless as it seems; it often leads to dire consequences, lost opportunities, delay of destiny and compromise. Not doing something on time or at the right time can force your life in an undesirable direction; procrastinating studying can make you fail an important exam and irreparably hurt your career.
It may not seem like it, but procrastination will cost you more than you know. Don't be a Herod, do the right thing, and do it NOW!
ADDITIONAL STUDY
Proverbs 3:28, Ephesians 5:15-17, & James 4:17
PHOTO QUOTE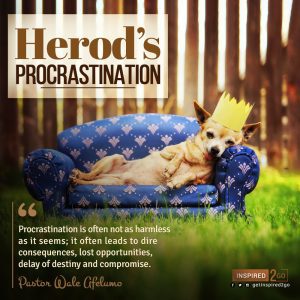 REFLECTION
What has God or your conscience been telling you to do since, that you haven't? Is there someone to visit, someone to ask forgiveness from, books to read, a call to make, a website to visit, a 'marriage proposal' to make to the lady, etc.?
What practical step will you take this day to put an end to procrastinating further on the things you should have done before now?