And when Herodias' daughter herself came in and danced, and pleased Herod and those who sat with him, the king said to the girl, "Ask me whatever you want, and I will give it to you…up to half my kingdom." Mark 6:22-23
REFERENCE
Mark 6:17-29
Herod's character is further put on trial in our text today. We have seen him as an incestuous and shameless man. He exhibited a half-hearted devotion towards God's Word – passive in doing what was right. We also saw yesterday that he postponed doing whatever he knew was right. Now today, we see him making a promise – a promise that was as senseless as it was vague.
Herod had thrown a party for his nobles, chiefs and captains. It was his birthday and he would display the splendor of his riches. At the peak of their merriment, having had some pints of alcohol, he felt he needed an innovative entertainment. He called his step daughter to seductively dance to entertain his guests. Indeed, the girl can really dance; for after her 'tango,' the king promised to give her 'whatever' she asked. He went a step further and said, "Even up to half of my kingdom." Up to half your kingdom for a girl who barely led anything? Who does that? Did you consult your lords and chiefs? Just on a whim, Herod made a 'great' promise; being a great king, he forgot he had put the clause, 'whatever.'
With her mother's counsel, the girl asked for John the Baptist's head on a tray. What??? Herod did not see that coming. He had made a rash promise. He didn't weigh what he promised, he didn't check if he could do it, he was too power-drunk to think he could have done for another human being, 'whatever' they wanted. He was intoxicated, excited, impressed, and was in high spirits, so he made a thoughtless promise, which he later regretted.
Life is really about decision-making. We must be careful to not promise anybody what we have not carefully thought about; else we will soon regret it. A Chinese proverb says, "In the midst of great joy, do not promise anyone anything. In the midst of great anger, do not answer anyone's letter." Herod in fact, promised with an oath; he swore that he would do whatever the girl wanted. Never promise what you can't deliver.
Don't borrow money and promise a time you can't pay back; don't tell your client you will complete their job at a time that you know you won't be able to. It puts a question mark on your character. For one, it shows you are too emotional to be given responsibility; it shows you can't really be trusted, that your words are worth nothing. Lastly, it shows you are of low morals and people can easily take advantage of you like Herodias and her daughter did to Herod. Learn to think before you pledge to do anything…don't let your mouth cause you to sin and live in regret for a long time.
PHOTO QUOTE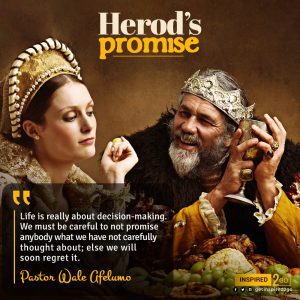 ADDITIONAL STUDY
Judges 11:29-35, Ecclesiastes 5:5, & Matthew 5:33-37
PRAYER
Lord, help me to be self-controlled at all times. May I not allow my emotions rule me or cause me to make rash promises/decisions that would set me back, make me live in regret, and jeopardize my future in Jesus' name.